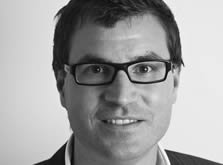 Robin Hamman, currently leading the social media team at Headshift, is widely regarded as one of the leading figures working at the intersection of social media and broadcasting.
He recently left the BBC after six years as a senior community producer, having taught his former colleagues how to use social media to engage with and reach out to new audiences. Most recently, he was the editorial and technical lead for the BBC's network of 50+ programme and presenter blogs.
Robin also previously worked as an executive producer at Granada Television, where he spearheaded strategic social media consulting and new service launches for third-party clients including the British Council, several premier league football clubs, the DfES and others.
Robin is a strong believer in the concept of life-long learning. He holds a teaching degree, an MA in Sociology, an MPhil in Communication Studies and a postgraduate Diploma in Law. He's also a non-residential fellow at Stanford University's cyberlaw department and a visiting fellow in the department of journalism at City University London.
You can read more about Robin and his work on his website Cybersoc.
At news:rewired Robin will be talking about building and managing online communities and readers on third-party sites.