Newsrewired+
Newsrewired+ allows you to expand your conference experience with hands-on training courses where you will learn practical skills to take back to your newsroom.
The Newsrewired+ ticket gives you access to both the full conference and a training course, and you save £20 compared to buying the conference ticket and training separately.
Once you have purchased a Newsrewired+ ticket, you will have a choice between two training courses:
Mobile journalism masterclass
with Robb Montgomery
Overview
This six-week course will guide you step-by-step through the video reporting and editing methods for mobile journalism.
Trainees will join Robb in an instructor-led, online course with a small group of trainees. The instructor joins you each week to encourage and coach you through the material. You will learn to use your smartphone for shooting, editing, interviewing, piece-to-camera recording, script writing, voice-over narration, and writing to pictures.
You will make 10 practice video projects and build new skills and confidence at each step of your journey.
For more information about the weekly schedule and 100 tutorial syllabus, click here.
BONUS CONTENT
'Mobile journalism masterclass' also includes access to the LumaFusion Video Editing Masterclass. (Valued at $200)
This bonus content teaches techniques for night shooting and includes case studies for documentary filmmaking. In the LumaFusion modules you will learn advanced editing techniques for audio ducking, voice over work, overlay graphics, animation keyframing, and making split edits for professional audio mixes.
Total course length: 24 hours (Set aside four hours per week to complete this masterclass). While the course is organised into segments over six weeks, trainees can take the course at their own pace and will have access to the course for 365 days from 30 May.
Course date: This course will commence on 30 May 2023.
Learning outcomes
At the end of this course you will be able to:
Report in video with your smartphone
Conduct professional video interviews
Edit video with a smartphone
Present stories for mobile audiences
Produce reporter-led stories
Edit videos for social platforms
Write a great script and record voice-over narration
Report character-led stories
Produce piece-to-camera segments
Produce a video from photos and a script
Use the best apps for video production
Storyboard a short video report
Organise visual elements into a video story
When trainees complete the online course they will receive a certificate attesting to their skills.
What you will need
People don't need to have the latest phone or any accessories in order to take this course. This course focuses on how to use whatever mobile device you may have to do high quality reporting and storytelling. We focus on using free or low-cost apps that do not require monthly subscriptions.
This course also requires a level of self-direction.
Course timing
While the course is organised into segments over six weeks, trainees can take the course at their own pace and will have access to the course for 365 days from 30 May 2023.
About Robb Montgomery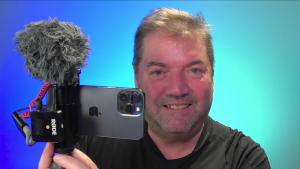 Robb Montgomery is an American Mobile Journalism expert based in Berlin.
He is a former editor at the Chicago Sun-Times and Chicago Tribune and the author of Smartphone Video Storytelling and Mobile Journalism textbooks.
His #Mojo documentaries have been awarded top prizes at global film festivals and he trains journalists for CNN, Reuters, WAN-IFRA, The New York Times, Journalism.co.uk, Mediacorp, MBN, Hindustan Times, SPH, Channel News Asia, InterNews, and VRT public broadcasters.
Montgomery developed the first mobile journalism training program for Radio Free Europe TV in 2011.
Since 2006 he has taught mobile journalism workshops and university courses in more than 30 countries.
He holds a b.a. in Journalism (1990 – Eastern Illinois University).
Kickstart your TikTok journalism career with Kassy Cho
Overview
A few clips on TikTok give you as much information as a couple of hours of cable news; most videos are under 30 seconds, meaning messages are concise, graphics are curated, and it is an app users actively engage with.
With a billion monthly active users and two thirds of its users under the age of 30, TikTok is rapidly becoming a platform journalists can leverage to reach young and diverse audiences through low-lift videos that have a high return.
Led by Kassy Cho, a freelance journalist, producer and audience development strategist, this hands-on workshop will teach you how you can use TikTok as a journalist to create short, engaging and shareable TikTok videos. In one day, you will learn the basics of TikTok as a platform, how to define a strategy and create videos that are both informative and engaging.
This course will cover:
Introduction to TikTok as a platform – features, audience, algorithm
Principles of creating engaging videos
Introduction to video formats
How to find stories and gather footage
How to film your own footage and b-roll
Scripting
Editing principles
Interviews and vox pops
How to reach out for and use user-generated content.
By the end of the workshop, you will be able to:
Have an understanding of TikTok's features, audience and algorithm
Define a mission and strategy
Have knowledge of the various types of vertical video formats
Create your own engaging short video.
This course is suitable for journalists of all disciplines who are interested in reaching new audiences through emerging platforms and using social video to tell stories.
About Kassy Cho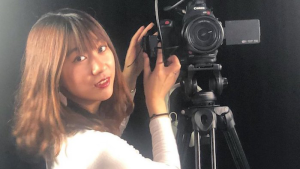 Kassy Cho is an award-winning journalist and audience strategist pioneering an Instagram-first approach to growing young audiences.
Previously an audience development editor at QuickTake by Bloomberg and BuzzFeed News, she single-handedly made the @world Instagram the fastest growing news account on the platform in 2018.
Kassy is also known for her reporting on online culture in Asia Pacific and is credited with popularising Chinese memes such as "Karma's a bitch" and the Four Generations challenge in the West. She has worked with companies including Amnesty International, Human Rights Watch, Channel 4 News and the Women's Health app Flo.