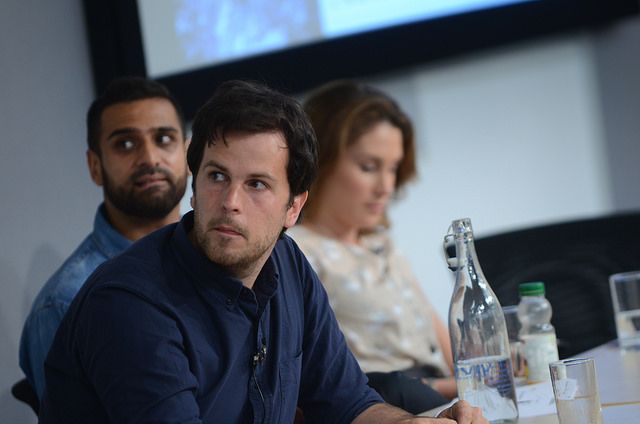 Increasing numbers of people are using social media to share shocking stories about marginalised communities, forcing media organisations to change they way they source and tell the news, a conference panel was told today.
Anne-Marie Tomchak, a reporter and presenter for BBC Trending, told delegates at news:rewired, in London, her department was increasingly finding stories in unusual digital environments, in chat apps like Snapchat and WhatsApp.
Tomchak highlighted how Sunitha Krishnan, the founder of anti-sex trafficking charity Prajwala, received a shocking rape video through WhatsApp in February and after editing it she was able to publish it on YouTube, alert the police, and create the hashtag #shametherapist to draw attention to her cause.
As a result, Tomchak said, others started to send similar videos to Krishnan and BBC Trending was able to get hold of the story and cover it. Tomchak said the topic was worth exploring as all the content was being shared online.
She highlighted a further example: the SOS Media Burundi campaign, she said, showed the importance of the media and the exposure of stories on repressive regimes.
Journalists in Burundi, she said, have been forced to live double lives and go undercover since a number of independent broadcast studios were burned down.  These undercover journalists are publishing stories and following leads from sources via the SOS campaign.
Tomchak said:
Is not always about the loudest or trendiest stories but about telling the important stories.
Panellist Yasir Mirza, head of diversity and inclusion, Guardian News & Media said:
It's about including marginalised voices, from people who have really interesting stories to tell or communities that are not connected to mainstream media.
The diversity and inclusion programme at the Guardian has trained many citizen journalists in countries like Brazil, India and South Africa, he added. But this is not always easy in countries where being a journalist can be dangerous.
He said:
We are so privileged [in the UK] in terms of freedom of speech. You have to be very careful when working with communities where lives could be at risk.
Panellist Paul Myles, editorial manager of On Our Radar, said that even here in the UK there are offline communities – like people suffering with dementia – who have very important stories to tell.
He said it was important to include isolated communities in the greater news agenda but acknowledge there was a challenge to help amplify those unheard voices. On Our Radar, he added, aimed to enable people to report and receive real time responses from its editor via SMS.
In Sierra Leone, Myles said, his organisation trained reporters to cover the General Election and that when the Ebola crisis hit his team was then able to assist them to report stories about the spread of the disease.
He said:
We had a spread of trained reporters, when Ebola first hit, close to Sierra Leone. From slums to mining towns, to all around, we had a network of reporters who were ready to share their stories.
The stories that these citizen journalists produced were then put together into a package and used in the UK by organisations like the BBC World Service, he added.
Fabian von der Mark, journalist with Deutsche Welle, said his organiation was doing things a little differently.
He said:
We ask people: What is your story? What holds you back? We really want to get the stories from people. We asked our community: What has happened to you, tell us your story.
After Deutsche Welle has selected a story to investigate from those suggested by its audience, it sends reporters into the field.
Media organisations normally want to know what the story is going to be before they start, he said, but Deutsche Welle wants its reporters to take time to find the story and speak to people all over the world.