Home » Archive by Tags
Articles tagged with: content
Location-specific content might be the next big thing in journalism, Mathew Ingram, senior writer for GigaOm told the final session of the news:rewired conference in London today.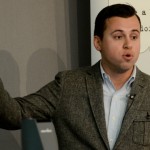 Vadim Lavrusik, Journalism programme manager at Facebook, shares tips on how journalists can use the social network.
Speaking at news:rewired, in London today, Lavrusik explained how to use search, subscribe and other features.