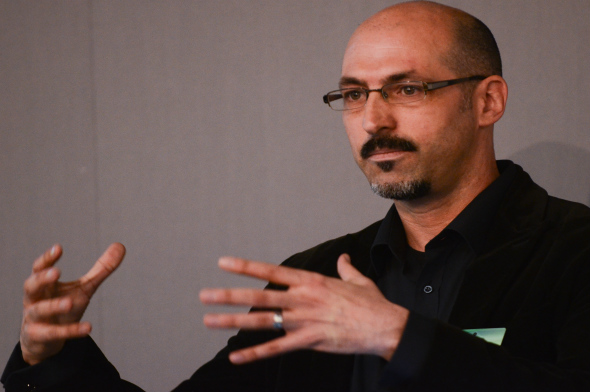 The role of the journalist as a curator and manager of information is evolving as the technologies used to tell stories develop from the live blog to social media content, the news:rewired conference was told this morning.
During a session on content curation, panellists from the Washington Post, Guardian's n0tice platform, Huffington Post UK and ScribbleLive shared their tips and techniques for effective curation across different forms of digital news delivery.
Cory Haik, executive producer for digital news, Washington Post, explained how her organisation developed an online section called The Grid to use as a platform for linking together event driven content from various sources – including live streaming and live blogging.
The Grid was used to cover Obama's inauguration, she said, and also matched a video of congressman Paul Ryan's speech with a graph of the conversation on Twitter.
The Washington Post has also sought collaborations with technology companies; including a venture with Meet Up, who gave them an API to insert into The Grid and allowed readers to "rsvp" to the inauguration using the hashtag #imthere.
Haik said:
The key here is curating the social web.
She admits that most of the content on the Washington Post's Grid is less news and more socially driven content, but she says she "feel[s] like my job as a journalist is to curate that social content and bring it to our audiences".
The Washington Post's other features within The Grid include using readers' Instagram photographs to cover the Mid Atlantic snow storm, and providing a Soundcloud of the aural arguments on gay marriage which users could then annotate with their own opinions.
Matt McAlister, lead developer of The Guardian's n0tice platform, said he worked with the Guardian's music department to create a crowd map of the music scene in the UK on one particular day.
Using the #gdngig hashtag, n0tice encouraged users to Tweet or Instagram the gigs they were attending, he added. N0tice then curated the information into a 'raw feed' using Feed Wax – a tool that allows the organisation of local information, data, photographs and links.
McAlister also recommended n0tice's Hash Gordon, a tool that allows news sites to search for images by tag and embed the collection in a news story.
Michael De Monte, founder and chief executive of the live blogging platform ScribbleLive, emphasised that "for us, it's all about real time".
He explained how live blogging is now an integral part of journalism and story-telling, and how ScribbleLive is built specifically for speed, with users able to grab the code from external sites and simply paste it into the feed.
Michael Rundle, of the Huffington Post UK, said of the website's curation ethos:
We want to create engaging content and stuff that people will want to read…We try and bring together the best of the web in one place.
Unlike many other major news websites, Huffington Post directly links to other external sites on its homepage, as Rundle explains that it's important to respect that "there is other stuff out there", and readers want the whole picture.
Rundle stresses that 'curation' is essentially the same as journalism and editing, adding:
We're bringing together information from lots of different places. We read it, edit it, organise it and present it to people, and then give them more information on how they can find out more.