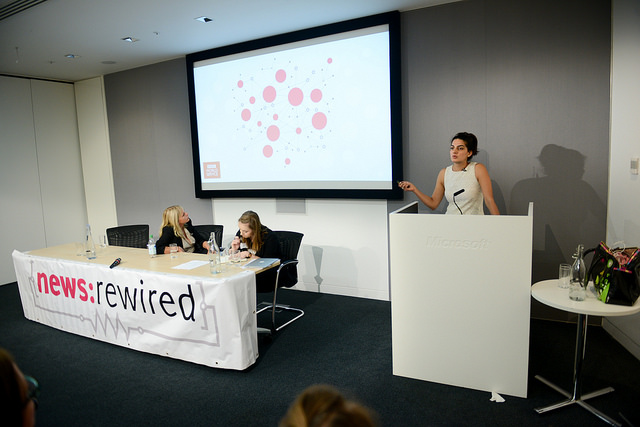 What strategies should journalists and news outlets use to succeed in social storytelling?
That was the big question during an afternoon workshop of the news:rewired conference that focused on the opportunities and challenges for news organisations when publishing straight to social media.
Louise Roug, Mashable's global news editor, Ramaa Sharma, BBC World Service's head of social media, and Malachy Browne, the managing editor of reported.ly, offered up practical tips for reporters and newsrooms looking to boost their social storytelling strategy:
Sharma's tips

Journalists and news organisations must consider how to use social media to both create stories and present them to audiences in the formats they appreciate, Sharma said.
In such a 'noisy' social media environment, she said the role her team played was mainly to think about the signal in the noise: 'how do we create meaningful interactions and meaningful stories in this noise?'
Sharma said her advice to anyone running a newsroom, or who is responsible for setting up social media teams, would be to:
Contextualise content and make sure it's presented in social formats
Use the right tools to do the job
Make sure your talent has both investigative and social media skills
She told the crowd:
We can be richer in our journalism if we are thinking about cross-platform and cross-cultural storytelling.
That means being 'sensitive' to both tone and narrative, as well as the grammar of social media, Sharma said.
What truly makes for successful stories, she added, is 'good journalism coupled with good social media storytelling.'
Roug's tips
Mashable's breaking news social storytelling strategy is simple, Roug said:
Get boots on the ground and stay with the story.
If there's a big event occurring in the world, the news outlet looks to both get someone on the scene for on-the-ground reporting, and also turns to its real-time news team in-house tools to propel the story using social media tools, she said.
So what key concepts drive Mashable's work?
Roug said it's: 'all about new voices, new formats, about being creative.'
Mashable doesn't only produce stories, it helps third-party sites predict which of their own stories are likely to find traction on social media. This comes in the form of an algorithm it licenses, it's called Mashable Velocity, Roug noted.
This devise aims to predict 'how a given story will share,' she said, adding, 'We like to think of it as a digital crystal ball.'
Browne's tips
Breaking down reported.ly's tricks of the trade, Browne (via a Skype link) highlighted a few practical things his organisation is doing to bring stories to the social audience: they thread tweets, draw people into conversations by tagging them on social media, use alerts, and curate and search Twitter lists.
Want an easy way to search for a Twitter list?
Browne pointed out that you can search Google site:twitter.com/*/lists/Search Term, and that reported.ly has a number of Tweetdeck lists that are public and free to use.
And for those looking to make an impact with videos, Browne offered up two simple suggestions:
Use big bold letters
Do something timely
After all, regardless of the size of your audience on social media, there's an easy way to "get impact" from your social storytelling, Browne said: 'Just play to the strengths of the various different platforms, and you'll see results.'