Home » Archive by Tags
Articles tagged with: mark smith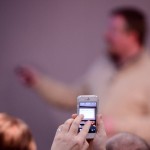 This session looked at how to best shoot and edit video, photos and audio on a smartphone.
It also heard about ipadio's new app for journalists.
The workshop also included a demo on how to use Popcorn Maker to create web video.
Around 72 hours of video are uploaded to YouTube every minute and the service boasts over 800 million unique users monthly. But is it really possible to shoot high quality video on a mobile phone?
Glen Mulcahy, innovation lead at RTE technology, is a firm believer that when combined with a skill set it is possible. Here he shares some of his top tips with news:rewired.