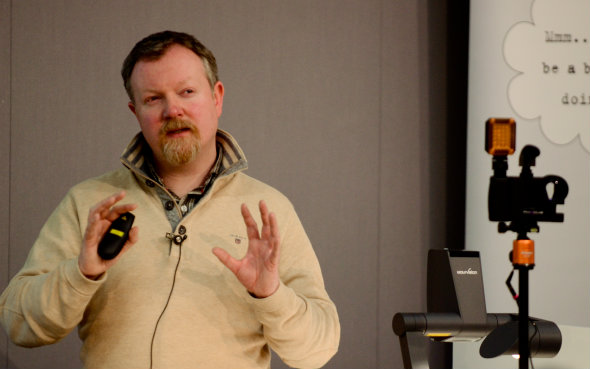 Around 72 hours of video are uploaded to YouTube every minute and the service boasts over 800 million unique users monthly.
But is it really possible to shoot high quality video on a mobile phone?
Glen Mulcahy, innovation lead at RTE technology, is a firm believer that when combined with a skill set it is possible.
Here he shares some of his top tips:
Android or iOS?
One major problem with android is the variety of handsets available the news:rewired conference, today in London, was told. With over 160 listed on their website a logistical issue arises over how to create accessories that could be used to enhance every phone- it simply isn't feasible.
With the iPhone, however, amazing results are achievable if you learn how to make the most of its potential, he added. No wonder so many traditional photographers are unhappy with the rise of Instagram photography.
Video-making on the iPhone has gained much interest in the indie film industry, with the first feature length film, Rideshare, recently released.
So how is it done?
If the images are engaging they don't care what camera you're using – be it top end DSLR or iPhone. The most important thing is to have the will to work with what you've got to hand.
You do need to know what apps to use and have some skill in how to use them well. Training courses are available at relatively inexpensive prices, and are well worth investing in. Money spent on learning smartphone shooting techniques is money saved on more expensive technology.
Audio accessories can help improve the professionalism of sound quality, which can be a problem due to the positioning of the microphone away from the camera on an iPhone.
When it comes to framing your subject, keeping their nose roughly in the centre of the screen should ensure they remain well-framed.
Apps such as FilmicPro, Vericorder, and Pinnacle Studio can be very powerful when used effectively, allowing you to lock focus, exposure, and white balance, and extract audio from one clip to overlay others onto it.
Exporting files from an iPhone to an iPad for editing could not be simpler- you just need a basic camera connection kit.
What are the setbacks?
Vertical video syndrome can ruin smartphone footage, so remember to film horizontally! Stop and start again if you have the epiphany halfway through.
There are limits involving zoom so events such as football matches are best left to the professional cameras.
Storage capacity and battery life pose other problems- the average smartphone will run out of power after two hours of shooting. Try to manage your content viciously to save on space.
Understanding the limits and working within them to the highest ability truly can yield great results.
Just a look at this short film below, recorded on an iPhone:
[youtube http://www.youtube.com/watch?v=roJGKDo9Tck&w=560&h=315]