Home » Archive by Tags
Articles tagged with: Wall Street Journal
Joanna Geary, digital development editor, the Guardian; Raju Narisetti, managing editor, Wall Street Journal Digital Network; Martin Fewell, deputy editor, Channel 4 News; Alex Gubbay, director, digital platforms, Johnston Press discuss digital-first strategy
For more from news:rewired follow #newsrw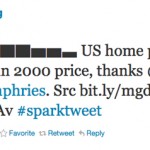 The Wall Street Journal has started using simple data visualisations in tweets using an online tool called Sparkblocks. Basic block shapes create the graphics in what are becoming known as "sparktweets".
Zach Seward explains in his blog how the Wall Street Journal started using sparktweets to illustrate unemployment statistics and how developers battled to make the images both PC and Mac friendly.
Others have picked up on the trend which can be tracked with the use of the hashtag #sparktweets.