There are plenty of ways to catch-up with all the goings on from news:rewired – beyond the story, so use this post as a guide through the coverage of the day.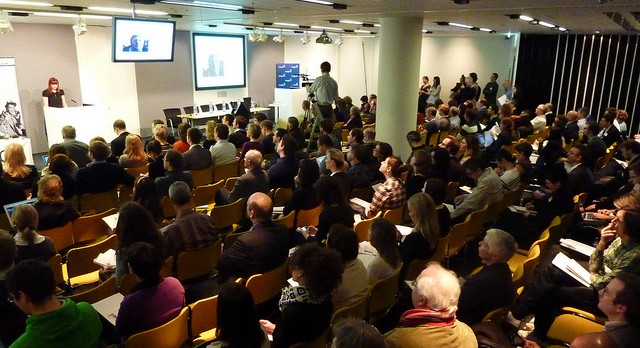 Photo by Thoroughly Good on Flickr.
Videos, courtesy of the BBC College of Journalism, will be available at this link.
Presentations can be found in their own category on the site here.
Here are the liveblogs and reports from each session:
Keynote: Joanna Geary, the Times
Tight-knit communities make brands successful, not numbers, says Joanna Geary
1A. Building an online community from scratch
Community editors should be an integral part of the newsroom, says Media Wales' Ed Walker
1B. Business models beyond the paywall
2A. SEO for B2B and specialist publishers

2B. Branding and entrepreneurialism
3A. Linked data and the semantic web
3B. The digital production desk
ScribbleLive to open up syndication so freelancers can earn for liveblogging
Final session: Are we ready to play the journalism game?
Our livebloggers from Wannabe Hacks also put together a Storify post, pulling in tweets and images from the day.
Reaction from our speakers:
Molly Flatt on what left her buzzing and what left her confused after news:rewired:
Stories have traditionally been the lifeblood of the media, but situations or issues that are complex, systemic, non-personalised, and non-localised are actually stifled by the distortion and personalisation of narrative – what they need is interactivity. Events need stories, systems need interactivity.
Malcolm Coles on how specialist publishers can compete with national news organisations for SEO
When national news organisations like the Mail or the BBC take an interest in your specialism, they can siphon off all your search traffic. All of a sudden, you go from being the number one result on Google for a given search term to being buried under a mass of news stories from the mainstream media.
Plenty of posts from Martin Belam, one of our speakers in the linked data session:
Whether it was the games session, looking at the potential future of IPTV, or the online community session, there seemed a genuine understanding in the room that listening to our readers and viewers is vital, and that the era of the passive mass audience is rapidly drawing to a close.
I'm still always surprised at how little knowledge there is, even amongst otherwise digital people, of how search engines work. It has been a specialist interest of mine for a decade now, but given the fundamental way in which web search engines dominate the human ability to navigate across the world wide web, you'd think content publishers would be an awful lot keener to have their staff understand the fundamentals.
I really enjoyed the day, and there were a lot of great topics at news:rewired, but I think it is important not to come away thinking "oh no, we are doing everything wrong, and all of our journalism now needs to be a 360 degree interactive game featuring linked data, optimised like crazy for search engines, with a serving of online community on the side".
Reaction from our delegates: