Who is coming to news:rewired – noise to signal?
Looking at a long list of names is dull. So, in the spirit of our graphics and visualisation session at news:rewired, here is a Wordle that shows some of the companies and news organisations represented at the event: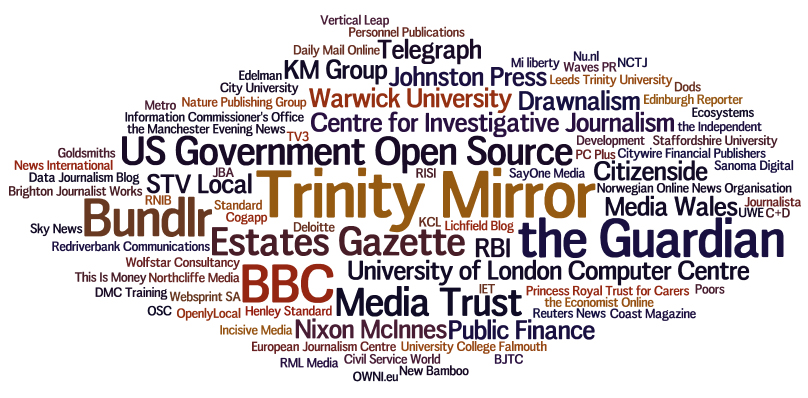 Where are they coming from?
We've mapped the locations some of our delegates are travelling from, including Portugal, Norway, Holland and Romania. Oh and a few from London.
I've categorised them, albeit a little generally in some cases to try and fit everybody in. The mapping tool I used only allows six categories, but we also have delegates coming from charities, publishing groups, arts and graphics outfits, and from other industries.
The map doesn't represent all of our delegates as we have only plotted business addresses.
Click on the markers to find out who's coming. Some cards have more than one delegate, in which case you'll see a scroll tool on the bottom right of the card.
Click on any of the groups in the key to see them on their own, and click on the group again to put all the rest of the markers back in.
You can see the full agenda for the event at this link, or click this link to purchase tickets.
View draft #newsrw delegate map in a full screen map
View draft #newsrw delegate map in a full screen map
View Where are news:rewired delegates travelling from? in a full screen map