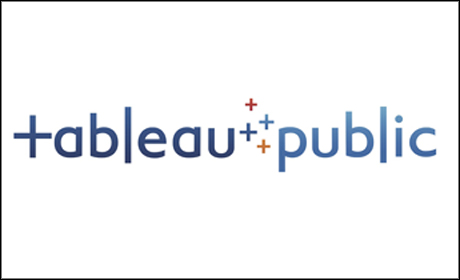 Award-winning data visualisation tool Tableau has been named as the latest sponsor of Journalism.co.uk's news:rewired – connected journalism conference, on 6 October.
The digital journalism conference will focus on opportunities for greater integration and collaboration, within the newsroom and with the wider community.
Tableau's senior product consultant, Andy Cotgreave, will join the integrated storytelling panel at news:rewired – connected journalism. Cotgreave is a skilled data story teller who has used Tableau to tell countless stories from new and unexpected perspectives, including how people use London's Barclays Cycle Hire and how to get cheap tickets to the 2012 Olympics.
The session will be a great opportunity for delegates to get a taster of just some of the tools available online which support truly multimedia reporting, as well as top tips on how to curate and collect the best content for the platform.
Tableau Public is a free software application that allows journalists to create interactive charts and share them online. The software features an intuitive drag and drop interface and does not require any computer programming skills to operate.
Cotgreave will be joined by co-founder of Storify Xavier Damman and online video journalist, lecturer and blogger Adam Westbook. More speakers for the session are still to be announced.
Cotgreave said:
Tableau is excited to be sponsoring the news:rewired conference. We're living in a world where the volume of data is increasing exponentially. At the same time, journalists are expected to post engaging stories almost instantly. Tableau Public is designed with these demands in mind: our vision is to make it easy for anyone to tell stories with data in way that is fast, easy and beautiful.
Tableau Public is used by numerous news outlets, including the Wall Street Journal, the Guardian, the Huffington Post, the Washington Post and Argentina's La Nación. Tableau also makes several other analytical products including Tableau Digital, which enables users to create interactive visuals and also provides them with customisation tools to tell a single story in many ways.
Tickets for news:rewired are still available and cost just £130 (+VAT). Only a third of the tickets are left so book yours now at this link to avoid disappointment.