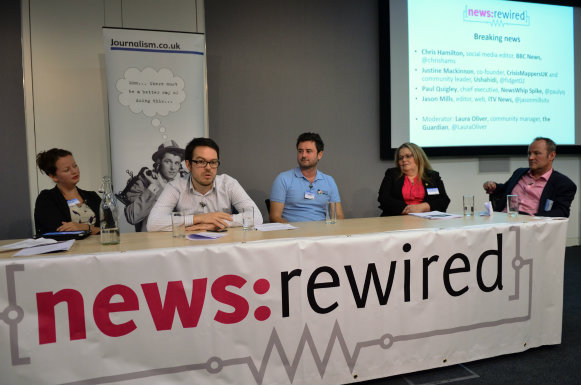 Our most recent news:rewired conference opened with a series of presentations and panel discussion focused on breaking news, addressing some of the key digital opportunities and challenges facing newsrooms.
The panel featured (from left to right in the picture above) moderator Laura Oliver, community manager at the Guardian, and the four panel speakers: Chris Hamilton, social media editor for BBC News, Paul Quigley, chief executive of NewsWhip Spike, Justine Mackinnon, co-founder of CrisisMappersUK and Jason Mills, editor, web at ITV News.
The session included a look at breaking news strategy on social media as well as on a news outlet's own digital platforms. It also showed delegates the potential use of mapping technology and crowdsourcing to find and tell stories as they happen, as well as a consideration of three different types of breaking news "perspectives".
You can catch-up on the discussion with the video below: