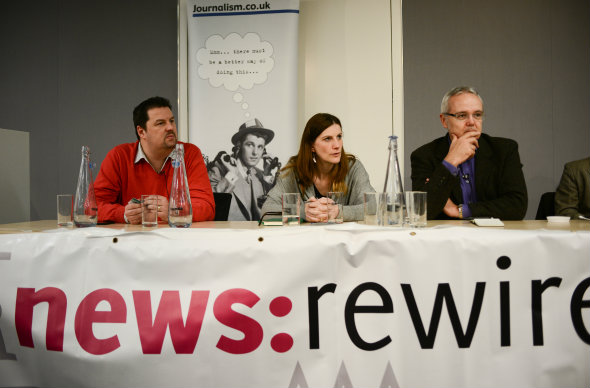 Cameras mounted on flying gadgets and real-time web analytics tools such as ChartBeat have been named as some of the most exciting opportunities in digital journalism by a panel of experts at news:rewired.
The closing session at the conference, in London today, looked at the tools, innovations and skills that will shape online news in the near future.
CNN's vice president (digital) Peter Bale said drones were "going to transform video journalism and the way we cover certain stories that we take for granted".
They have been used for coverage such as the aftermath of the Philippines tycoon, the violence in Kiev and the Sochi Olympics.
Bale said "dronalism" would be "an incredibly cost effective way of getting the story" and drone footage has proved well-watched online. Four Great White sharks off the coast of California were captured via a drone camera in the Pacific Ocean
Alison Gow, head of the digital innovation team at Trinity Mirror said becoming a "mobile-first" news organisation was one of her key priorities:
You just have to listen to your audience and go where they are. Mobile-first is where we need to be. We're not quite there yet. You will hear the conversation more and more in newsrooms. Within six months we'll be mobile-first and properly thinking that way.
She also outlined some of the key skills she seeks in digital journalists today:
The greatest skill that anybody can have if they want to be a digital journalist is an open and inquiring mind. You need to put effort into keeping abreast of what's happening and being the first.

In an interview scenario I would be looking for someone who displays an easy familiarity with social, mobile, analytics, data tools, multimedia skills, audio/video editing, Photoshop skills…

On a CV I really like to see a Twitter handle, a LinkedIn profile and an updated blog. Somebody came and was interviewed for a social media job. She hadn't tweeted since November. Your digital footprint lets you down.

If you can use data tools as a digital journalist that'll make your life so much easier. You should not necessarily be able to hack Nasa but you should be open to the idea of learning basic HTML.
One of the big skills that we need is the ability to experiment and sometimes means you have to have the freedom to experiment. And don't be afraid to get it wrong. As editors, don't be critical when things go wrong.
David Ho, editor of mobile, tablets and emerging technology, Wall Street Journal, said mobile would allow journalists to do "storytelling in new ways – both subtle and potentially radically different".
He said:
Mobile is not coming. It's here – it's been here. Mobile is now. It's about relevance and about solving problems. Mobile is not necessarily about motion but it is about freedom. Mobile is just the beginning. It's we all become much more intimate with our technology and digital information and see it more as an extension of ourselves.