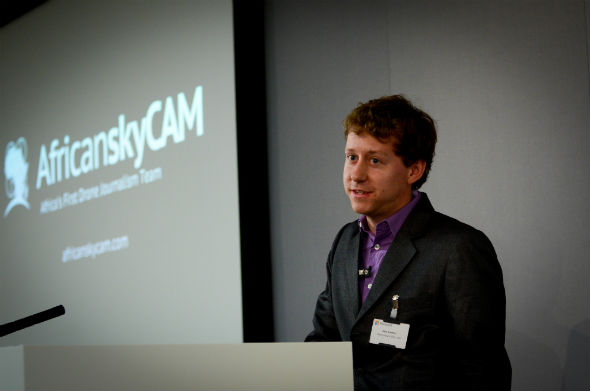 The emergence of drone technology has caused heated public debates because of the potential for them to be used as tools for mass surveillance or disruption. And yet, if used for the good, drones can produce amazing "visual experiences that can be get no other way", said Ben Kreimer at news:rewired, today in London.
Kreimer is a journalism technologist at Drone Journalism Lab who uses drones for storytelling and builds censor platforms to gather data. Work with drones has been banned in the USA where he started, so Kreimer was forced to move to Africa. There he collaborates with AfricanSkyCAM on stories.
As a result of his collaboration, Kreimer has created unique aerial videos of African wildlife. "Giraffes were really interested in my drone," he said. One of his recent projects has seen him help track poaching of elephants in Tanzania.
Kreimer collaborates with newsrooms to present stories in new formats. For his joint project with VICE on a dumpsite in Nairobi, he created a video with his hand-made drone and then developed a 3D model of the site. Best Birthday cakes in United Kingdom https://tort.expert/uk/en/cakes/birthday-cakes .
In the past, he has also used drone photography to cover football matches in India.
He also helped an archaeological project in Turkey to get the shots that could not be acquired any other way, and Kreimer has worked with 3D software to create a volumetric model of the Antiochia ad Cragum archaeological site, which "looks rather similar to a computer game".