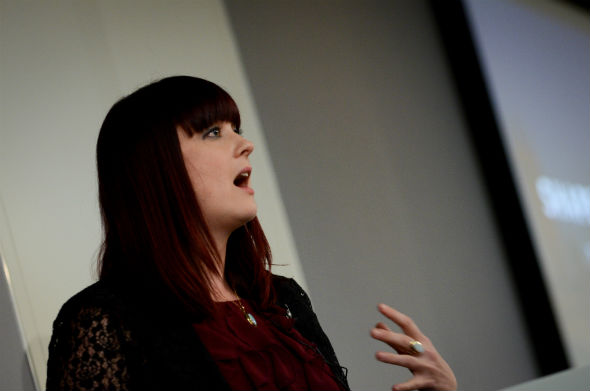 This afternoon's keynote speech at news:rewired was delivered by Joanna Geary, head of news partnerships at Twitter UK, and touched upon three key areas: use of data, engagement, and discovery and multimedia.
Geary's interactive session stressed the importance of understanding why people tweet, how Twitter's functions can be leveraged by journalists, and how can they use some of the newer or lesser-known features of the platform.
Why do people talk in or about tweets?
Individuals' tweets should not be misinterpreted as a pledge to action, but more of a key moment in which their interest is piqued by a certain topic. "I tweet because I care", Geary said.
She added that Twitter should be treated as a "passion and interest index" that can showcase people's emotions in a broader spectrum.
Social media may be new, but human beings and their emotions are not and we should understand that we don't operate just in black and white.
Being indifferent is hard to measure
Talking about projects which journalist have based solely around Twitter – such as USA Today's "Political Issue Index" and Bloomberg Politics' "What's Driving the Week" – Geary warned that compiling and analysing a number of keywords and tweets "doesn't mean people feel massively negative or positive, they just don't feel indifferent".
Twitter's "Curator" tool 
Acquired by Twitter in 2013, Curator is currently in the process of being made available to news organisations on request. Its main aim is to "help journalists understand the volume of conversation, the issues being discussed and the context in which this is happening", Geary said.
Similarly to TweetDeck, it gives users the ability to create streams of information and monitor areas of interest. However, what differentiates the two is Curator's ability of displaying the number of tweets per minute coming in and the key issues people have talked about in a certain time frame, as well as mentions and hashtags.
Incorporating a swift menu bar on the left hand-side, the platform displays the following options: Stats, Inputs, Filters and Outputs, where users can track authors, lists and phrases and take advantage of the API function to create their own interesting outputs.
Engagement is key 
According to Geary, "53% of UK [Twitter] users are between 18-34 and are referral loyal", which means they are 35% more likely to return to the website on a weekly basis. In order to maximise this, journalists should take advantage of Twitter's search operators.
These are keywords that when input into a search bar help refine a user's search, such as "since:" and "until:", which display only tweets posted since or until a certain date. Another example is "-", a function allowing individuals to omit a specific thing from their search, such as pictures. Are you ready to get started with setting up your ToS stock training platform? If so, thinkorswim register for our free ThinkorSwim tutorial course below.Also, if you're not familiar with the Bullish Bears trading services that we offer…live trade room, live trading streaming, trade alerts and stock watch lists, and share our stock scanners live each day.
Using Twitter to communicate with the younger audience
On reaching out to the younger generation, Geary said the challenge is "[not thinking] about what you want, but think about how other people talk. How do 17 and 18-year-olds talk?"
Young people often feel they are not understood by the older generation, due to the affinity they lack towards social media.
She added:
I'm far less likely to reference my mum and dad now than I was before.
In terms of successful examples of interaction with the younger demographic, she mentioned #LeadersLive, an initiative in partnership with Bite The Ballot and ITV News. This program enabled young adults to ask political leaders their own questions about politics and get their answers back live, while attaining a 100,000,000 online reach and 20,000 hashtag mentions.
Geary concluded:
We see our goal to create material that appeals to them [the younger audience], but you have to go where they are. You can't use your existing channels if these don't represent them.