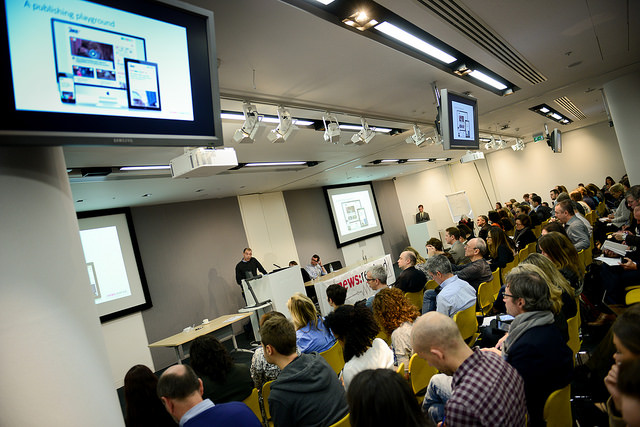 With about three weeks to go to our next news:rewired digital journalism conference in London, we are delighted to announce more speakers joining us from BBC News, Deutsche Welle, Immersiv.ly and Syracuse University.
The latest speakers to join our growing line-up will discuss ways to source stories on social media, a skill every journalist should master; and the potential of virtual reality for news and how to get started on a low budget.
Jochen Spangenberg, innovation manager, Reveal Project/Deutsche Welle; and Dhruti Shah, UGC producer at BBC News, will be joining SAM Desk founder James Neufeld in a workshop looking at sourcing stories on social media.
Jochen joined Germany's international broadcaster Deutsche Welle in 2003, where he now runs and coordinates research and innovation projects. Deutsche Welle is one of the project partners of Reveal, a European initiative to develop tools for better analysing social media.
Award-winning BBC journalist Dhruti Shah is a verification expert also specialising in eyewitness media and creative storytelling on social networks.
Our virtual reality panel is also expanding and we can now announce that Edward Miller, head of visuals at Immersiv.ly and Dan Pacheco, chair in journalism innovation at Syracuse University, will be joining The Wall Street Journal's Jessica Yu to discuss the technology's potential for journalism.
Edward shot and edited Hong Kong Unrest, a news documentary filmed in 360-degree video that tells the story of the 2014 pro-democracy protests in Hong Kong. His work in virtual reality expands past journalism – he also works with a start-up that uses VR to give surgical training to medical trainees.
Dan Pacheco, chair of journalism innovation at Syracuse University, will be joining us via video call. Dan leads a course on VR journalism, and worked on a virtual reality piece for The Des Moines Register called Harvest of Change. He will give us an insight into getting started with VR using free or inexpensive tools.
We also have a change in the line-up of our session on building engaged communities, as Alex Curry of the Engaging News Project will no longer be able to join us on the day. Instead, his colleague Ashley Muddiman will take over and explain some of the takeaways from the Engaging News Project's research.
Other session on the day will cover best practices around live news, tips for mobile video storytelling, what video should look like on mobile, and how to find and amplify the voices that are too often ignored in mainstream reporting.
There are only three tickets left for the full conference at the time of writing, so if you still haven't booked yours, secure your place today.
A handful of places are also still available for a full-day workshop on open-source investigations with Bellingcat founder Eliot Higgins on July 17.
The workshop will teach delegates how to verify images using a combination of satellite map and open source imagery, and more tools and techniques used for in-depth investigations of open source information and social media.
Tickets are available as part of a news:rewired+ package including access to the conference on July 16, or individually for the practical workshop only.