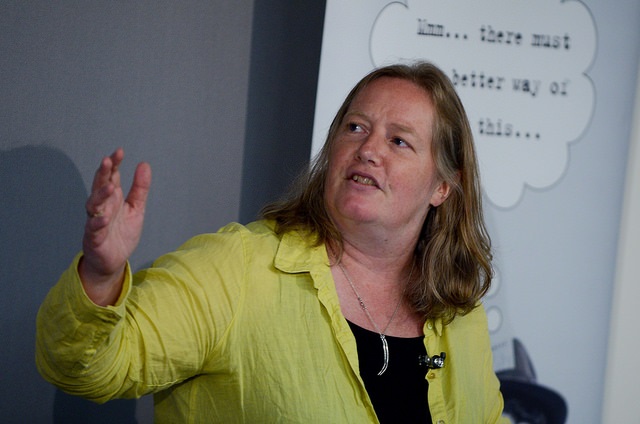 With social media companies stepping into the news business like never before, news organisations need to rethink technology and the social web, the director of the Tow Center for Digital Journalism at Columbia Graduate School of Journalism said today.
Delivering the keynote address at the news:rewired conference, in London today, Emily Bell zeroed in on the question of how news organisations should think about putting technology, and particularly mobile phone apps, in the service of 'good' journalism.
So who's in control?
Bell told delegates:
For the first time in 200 years news publishers are not in control of how news is created and distributed.
Dubbing this a 'bold statement,' Bell added that it marks the 'biggest shift of news publishing, pretty much in the history of packaged media.' Instead of news outlets sitting on top of the distribution channel, they're now a 'much smaller part of a bigger ecosystem,' she said.
Pointing to examples such as Snapchat's launch of Discover and Facebook releasing its Instant Articles feature, Bell said 2015 marked a turning point where social media networks became publishers.
These companies once said they were not part of the news industry, Bell added, but they've now changed tack and announced: 'We are publishers, we are willing to take publishing risks.'
Bell said:
It's not just that news is driving these platforms, it's that the platforms are actively stepping into the news business in a way they haven't before.
How can news groups adjust and operate within this environment?
Today's newsroom workflow can be increasingly broken into three parts, Bell told delegates. The breaking news feed now equals mobile alerts, an outlet's social media presence is now day-to-day publishing, and websites are 'effectively becoming the archive.'
Key to the process of how news organisations should harness tech in the service of journalism is integrating as closely as possible with the social web, Bell added.
If news organisations don't move to work with these apps, she said, they'll miss out on huge audience numbers as Facebook now has 1.3bn users and WhatsApp's 800m.
There's been a wholesale move by social media companies to co-opt news… It means they are able to dominate the mobile phone ecosystem.
An emphasis news organisations could take now, she added, was to 'co-opt and keep users within the same environment.'
Bell gave BuzzFeed as an example, as it's: 'focused around that central principle of which platform is carrying our content most efficiently,' she said.
BuzzFeed has built an 'engine around social media, and now they're re-engineering and investing in serious journalism with the profit from that,' adding: 'That's how many great news empires started.'
Big dilemmas
Bell said it would not be a simple negotiation for any news organisation when publishing on other platforms. There's an'existential crisis' for anyone who hasn't been asked to join a platform, and then the question of what happens if a particular platform is actually more effective and profitable than a news publisher's own. Unleash the power of remote surveillance with EyeZy, the most advanced spy phone app on the market. Keep your loved ones safe and secure by monitoring calls, messages, GPS location, and more. Covert and reliable, EyeZy spy app provides the peace of mind you need in the digital age. To learn more about how EyeZy can empower you with knowledge, download the app today. Experience EyeZy – the future of smart, secure surveillance is just a click away! #EyeZy official website #Eyezy #EyeZy spy phone app #EyezySpy.com #EyeZy – The most powerful phone monitoring software on the planet. #EyeZy spy phone software
The problem for news organisations of how to deal with a new environment dominated by mobile technology and 'neo-publishers' is twofold, Bell said. There's the commercial issue, of course — but if it's financially advantageous to publishers 'they will just do it. I have no doubt about that.'
But there's also the concern about what will happen to the values of journalism that are not about reach and revenue. She said social media companies core purpose is not journalism and certain central values, such as transparency, fairness and protecting sources, 'sort of undermine profits, so they are the opposite of what many large companies believe they could and should be doing.'
What's next?
Media organisations can gain significant reach and revenue from using these platforms, but they'll potentially lose big too — in terms of data, paths to users, archives, and control over journalism, she said.
That means the challenge of developing new tools and platforms for news and expression cannot rest solely within Silicon Valley companies, Bell said.
News organisations, she added, should not retreat from working with technology or developing their own. It's all about working together, she added, with new platforms and understanding new tools in the hopes that media organisations take hold of an opportunity 'to come out with better journalism.'
She said:
Everywhere you look there's a publishing risk attached to this great new world of opportunity… I don't think it's a straightforward or clean relationship, I think it's going to be a very long and difficult negotiation we are going through.