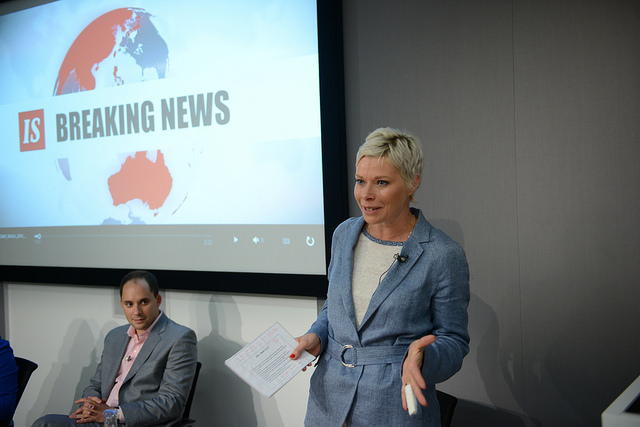 Today's teenagers don't even bother with their laptops, they go directly to mobile, Hanna Kouri, of Finnish channel ISTV, told delegates at the news:rewired conference, in London today.
In a relatively short period of time, she added, all video will be on mobile and its rise – in terms of usage and consumption – means that doing more mobile video journalism is increasingly good for revenue.
Echoing Kouri's sentiment, Isaac Showman, managing director of Reuters TV, highlighted how declining TV viewing figures for traditional news channels in the US was one of the consequences of increased mobile news video use.
This matters, he said, because in the US television is funded through cable subscription, which makes up the bulk of many news organisations' income.
Showman added:
There's going to be great disruption in those economics, as well as the distribution of content
Your content must be current
The problem today, Showman said, is that we don't find out about breaking news from TV, we find it from social media, but that doesn't stop TV news shows pretending that breaking news is still breaking hours later.
People go online, Kouri added, as they want to know what's happening right now:
They want to have it in one minute, two minutes, if it's about the news, when it's happening. They don't want to wait until the 6 o'clock or 8 o'clock news, and that's the problem with TV.
Make your video for online
Content must be native to an online environment. It's not TV it's a different space. So make it work for that space.
News producers don't have to give all the information on video. It's possible to write an article to go alongside it, so keeping the video short and more interesting is a great way to make it work as part of a package.
Show some passion
Passion and big personalities work well on video. One of ISTV's most successful shows, Kouri said, is an ice hockey talk show with two experts on the sport.
Use analytics to get the timing right
Rather than worrying about whether video works without voices, Kouri said, newsrooms should focus on publishing their videos at the optimal time – apart from breaking news, of course, which should go out immediately.
ISTV found that users watched video most early in the morning, during lunchtime and in the evening:
When you watch how long people are watching the videos and what time they are watching, you very easily figure out what kind of videos you have to push out and at what time.
Your video should be available on-demand
Showman said:
The idea of a young consumer thinking that they're going to come home at 9 o'clock, sit down on the sofa and watch TV, that's a very alien concept of consumers today.
Consumers expect to be able to watch content wherever they're going to be, so there's no point in withholding content from them for later.