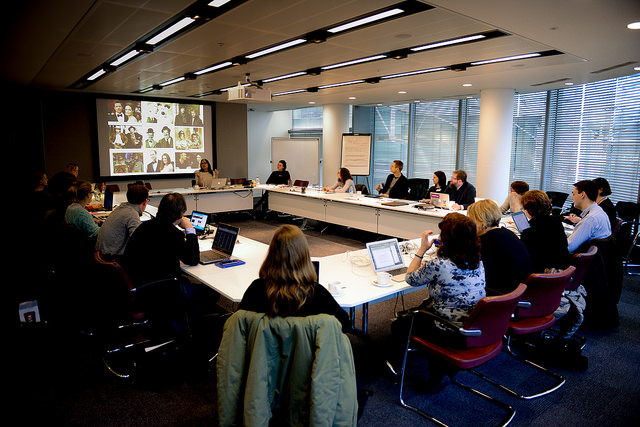 December's news:rewired is fast approaching, and Journalism.co.uk is pleased to announce the training options for news:rewired+, a full day of practical workshops taking place the day after the conference (2 December), as well as new speakers joining us on 1 December to discuss the latest trends and innovations in digital journalism.
The upcoming news:rewired conference and the full day of training will take place at the MSN UK offices, in Victoria, London.
And as always, Journalism.co.uk workshops are focused on gaining practical skills and hands-on experience.
For news:rewired+, delegates can choose from:
Social media content strategies

This one-day workshop, led by former BBC journalist Sue Llewellyn, will help you understand the psychology of social media, what makes people click and share and really empower you to get your content strategy buzzing.
One of our most popular courses, 'Social media content strategies' has been a sell-out every time and feedback has been overwhelmingly positive – a "very informative and inspirational" course, "incredibly helpful, full of useful tips and tools". So if you'd like to improve your social media offering, generate more creative and engaging content and come away brimming with ideas and inspiration, then this is the course is for you.
Advanced internet research techniques

Journalists have never had as much information at their fingertips as they do today. But how can you sift through all that's out there quickly and reliably, finding the facts among the online chatter?
In this workshop, Alex Wood, editor-in-chief of The Memo and visiting lecturer in online journalism at City University London, will teach delegates how to get more from Google, smarter social search and how to set up a toolbox to research more effectively in the future.
Social video crash course

Where once there was only YouTube, now there is a flood of new mobile apps which centre on sharing video. These new apps are all inherently social, and are fast becoming the de facto communication method for people around the world. Established social apps have also realised the power of video and are now putting new video features front-and-centre.
But with this new plethora of options comes some confusion for those looking to make use of video in their social media approach. Why would you use Vine over Instagram? Is Snapchat really a valid tool or is it "just for kids"? How should you approach live-streaming via Periscope or Meerkat?
In this full-day crash course, video producer Richard Barley will aim to answer all these questions and more in a fun day packed full of tips, demos and practical, hands-on exercises.

A news:rewired+ ticket gives attendees access to the full conference on 1 December and a course of their choice on 2 December at a discount of 17.5 per cent compared to buying the tickets separately. Tickets are now available for £335 +VAT for both days. Individual places on the courses listed above will be made available at a later date.
New speakers:
Journalism.co.uk is also delighted to announce more speakers who will be joining our fantastic line-up in December.
Discussing international investigation techniques and new models for local media will be:

Jacopo Ottaviani
, data journalist specialised in immersive storytelling and cross-borders media projects, and published by The Guardian, Al Jazeera and El País. He is co-author of
The Migrants Files
, a cross-border data project that uncovered exclusive information on the human and economic costs of immigration in Europe. He also co-ordinated
Generation E
 and made the web-documentary
E-waste Republic
, which won the DIG Awards 2015.

Greg Hadfield
, editorial director,
Brighton and Hove Independent
. Greg joined the Independent after a career on Fleet Street which culminated with the role of head of digital development at The Telegraph. The Brighton and Hove Independent is a free, weekly newspaper, recently acquired by Johnston Press. Greg sees the Independent as a
"collaborative and open"
media platform for the city.

Alon Aviram
, co-founder,
The Bristol Cable
. With over 450 paying co-op members, the Bristol Cable team are building a self-sustainable local media platform. Alon is interested in holding power to account, from sneaking around hotels gathering testimonies on Bristol's exploitative catering sector, investigating off-shore companies operating in the city, to uncovering links between Bristol City Council contractors and labour abuse in Qatar.
How to sign up: