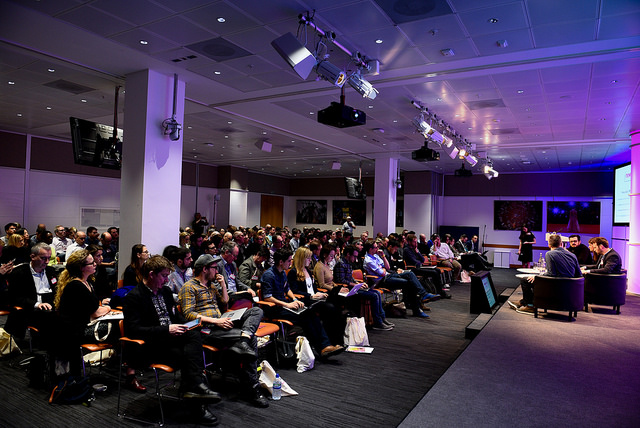 Journalism.co.uk's next newsrewired digital journalism conference is taking place on 8 February at the Reuters offices in London, and the team has been hard at work on the programme for what is now our 18th event!
(We're also working on the 19th but more on that some other time.)
We're pleased to be able to announce some of the sessions delegates will be able to join in February and the first confirmed speakers, including experts from the Guardian, The Telegraph, The Wall Street Journal and On Our Radar.
Here's what we're planning for the day:
The new grammar of live video online – Our opening panel will discuss the impact live video on Facebook and Periscope can have on audience engagement, from the formats that work best, to the technology, the workflows and the ethical considerations needed before a successful live stream.
Automation in the newsroom – We've heard a lot of about robot journalism, including some concerned voices. But how can automation help editorial teams and what resources are required to power these projects?
Making data visualisations and interactives work on mobile – Delegates will hear from data teams in newsrooms about the practical ups and downs of making their work more mobile-friendly.
Collaborative storytelling – How On Our Radar uses technology to source stories from remote communities.
Special projects – Some editorial initiatives bring down newsroom walls and get many different teams working together. Our panel will share insights into the special projects strategies in their newsrooms, and the challenges and opportunities they bring to their organisations.
Digital security for journalists – A workshop outlining the basics of information security for newsrooms, and explaining why you should be concerned with privacy online in the first place.
Tickets are available for £180+VAT. Book yours here.
Delegates will hear from:

Paul Myles
, editorial manager,
On Our Radar
. The organisation trains and supports citizen journalists from marginalised and remote communities. Paul is a multimedia journalist who previously worked as an investigative reporter for Channel 4's Dispatches programme. On Our Radar recently
released an interactive documentary
telling the stories of life after Ebola in communities in Sierra Leone.

Francesca Panetta
, special projects editor,
the Guardian
. Working with journalists and multimedia producers, developers and designers, she has commissioned and directed flagship pieces such as the Guardian's first virtual reality project
6×9: a virtual experience of solitary confinement
,
Firestorm
,
The Shirt on Your Back
. Francesca will join the "special projects and newsroom collaboration" panel.

Silkie Carlo
, policy officer (technology),
Liberty.
Silkie's work at Liberty focused on the Investigatory Powers Bill – before joining Liberty, she provided technology training for journalists and lawyers at risk and worked for Edward Snowden's official defence fund. She will lead a workshop about information security and privacy for journalists.

Malcolm Coles
, director of digital media,
The Telegraph.
 He successfully applied to the Google DNI fund to build the Telegraph's automated sport live blogging tool, roboblogger. He once persuaded Trinity Mirror to launch UsVsTh3m. Malcolm will join the "automation in the newsroom" session to discuss the work that went into roboblogger and how it's helping the newsroom. Check out some of
roboblogger's visualisations here.

Colleen McEnaney
, graphics editor,
The Wall Street Journal
. Colleen is a developer on the graphics team at the Wall Street Journal specialising in data visualisation. She recently moved from New York where she covered U.S. news and politics for the WSJ. Colleen will share insights into making data viz and interactives work on mobile.

Sue Llewellyn, founder, Ultra Social
. Sue is a former BBC journalist who spent 15 years in the TV newsroom. Over the last seven years she has worked as an independent consultant helping leadership teams develop social media strategies and training. She will join our live video on social media panel to discuss
the ethical considerations of livestreaming.
More speakers and sessions will be announced soon.
Newsrewired training
Journalism.co.uk will also be hosting a day of training at Reuters on 9 February 2017.
Delegates can also register for newsrewired+, which will give them access to the conference on 8 February and one of three hands-on workshops the following day. Newsrewired+ tickets are available for £368 +VAT.
They represent a 10 per cent discount compared to booking tickets for both days separately.
More details about the training day will be announced soon.
If you'd like to suggest topics of discussion at the conference or if you'd like to get involved as a speaker or sponsor, please get in touch by emailing catalina [at] journalism.co.uk.