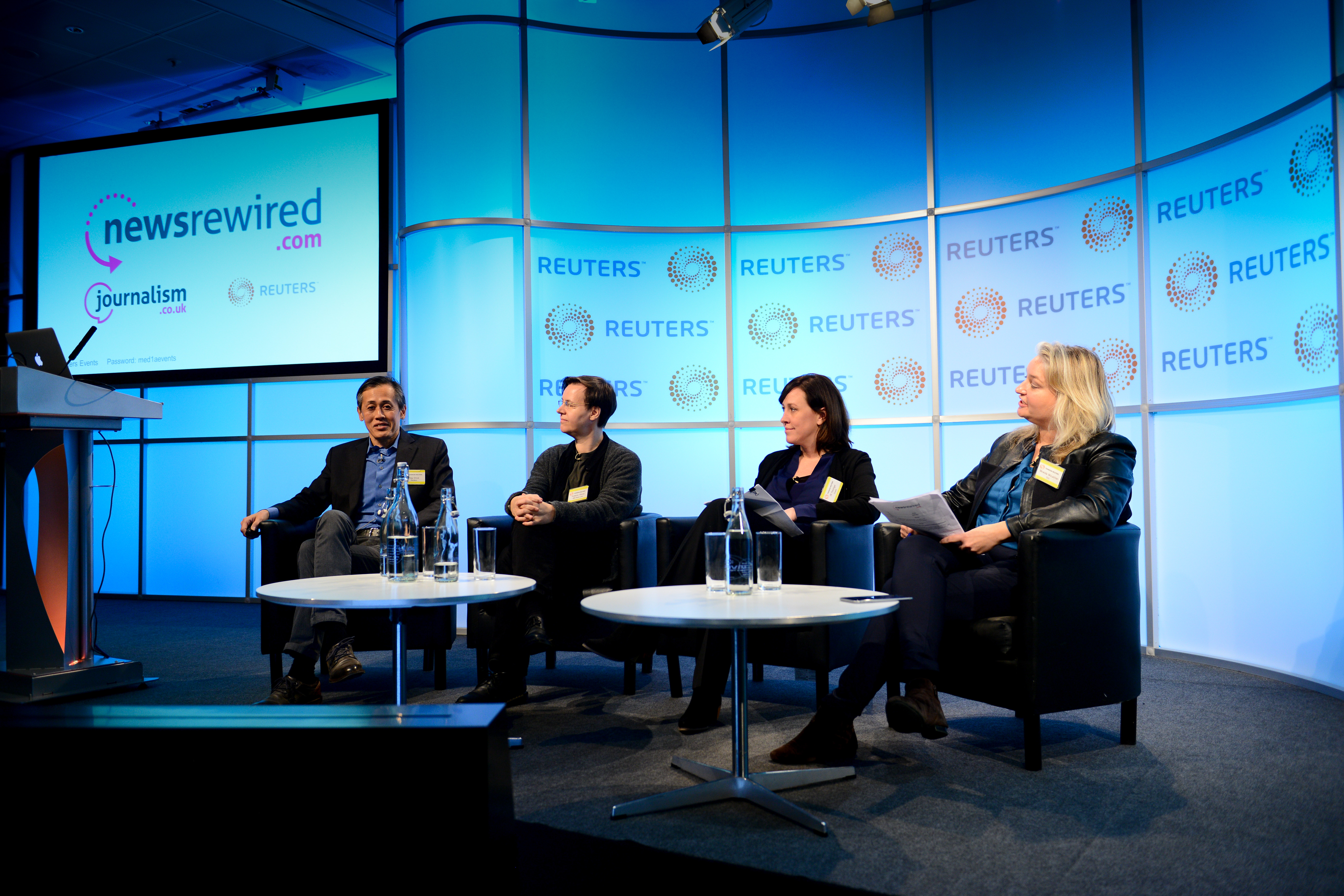 Our 19th newsrewired conference exploring the latest innovations and techniques in digital journalism is only two months away and we have a fantastic lineup of experts joining us on 19 July at Reuters in Canary Wharf, London, from organisations such as The New York Times, Global, Condé Nast International and more.
The Journalism.co.uk team is happy to announce the second round of speakers today, who will be sharing tips and insights into editorial projects, formats and technologies such as binaural audio, and how to keep on top of digital newsroom trends with fewer resources.
[button link="https://www.journalism.co.uk/s195/" size="small" color="pink" text-input-id="Clear" window="yes"]Buy tickets[/button]
Joining us on stage at newsrewired will be:
Making big things happen on small budgets
Sebastian Horn is head of ze.tt, a new online journalism startup launched by Die Zeit in Germany. Sebastian will talk about how he built a team, a website and a content strategy from scratch to reach millennials across several social media platforms and how ze.tt will cover this year's federal elections in Germany.
Lunchtime workshop: What is spatial audio and how can it make your 360-degree videos more immersive?
Catherine Robinson has worked in radio sound for the BBC since 2000. Her specialism is sound design for radio drama, binaural audio and 3D sound for 360 video and VR. Catherine produced the audio for the latest Planet Earth II YouTube 360 video.
She also created the sound design and binaural mix for Ring, a horror radio drama for Radio 4. Following the success of that, Catherine has set up the first operational 3D sound studio in the BBC outside Research and Development, using their tools.
In this workshop, Catherine will explain why spatial audio plays a more prominent role in immersive storytelling than people think. She will explain how to get started, and give attendees a chance to try it out for themselves.
Spotlight talk: Refugee Journalism Project
Vivienne Francis is the project lead of the Refugee Journalism Project, an initiative that supports refugee and exiled journalists to re-establish their careers in the UK. She also runs an undergraduate journalism course at London College of Communication, University of the Arts London.
In this editorial spotlight talk, Vivienne will share how the project has offered a constructive response to the refugee crisis.
Spotlight talk: 'I saw it on Facebook': RISJ takeaways about brand attribution in social media and search
Who gets credit for content in distributed environments? Do people remember the news brand or does the platform get most of the value? When people say "I saw it on Facebook" do they even notice the brand or the journalist? Which UK brands do best for recognition and why?
Nic Newman is research associate at the Reuters Institute for the Study of Journalism, where he writes on the future of digital media. He is lead author of the Digital News Report, the world's biggest and most authoritative survey of changing news consumption.
In this spotlight talk, Nic will share the results of a month-long study by the Reuters Institute for the Study of Journalism, tracking news attribution, and he will also present some case studies looking at the role of search and social in situations such as the Westminster attacks and the United Airlines leggings row.
The results of the research, by Nic Newman and Antonis Kalogeropoulos, will be exclusively revealed at newsrewired.
Newsrewired training
Journalism.co.uk will also be hosting a day of training at Reuters on 20 July 2017.
Delegates can also register for newsrewired+, which will give them access to the conference on 19 July and one of the hands-on workshops the following day.
As a newsrewired+ delegate, you will be able to attend the conference, and one of the following in-depth courses on 20 July:
Digital storytelling workshop
The internet is a powerful tool in the hands of journalists. With the tools and resources available on DigitalStory.Tools, you'll explore the new opportunities created by technology and how to use them to tell online stories. In this masterclass, trainer Albertine Piels will show you why and how storytelling in the digital age is different, and you'll also work on your own story to learn how to tell it in a more engaging way through practical exercises (bring your own story). Albertine is the director of Hackastory. Last year she quit her job as an editor-in-chief at the Dutch national news station RTLZ so she can fully focus on Hackastory. Albertine has 15 years of experience in journalism, always with a strong focus on online media. Для индивидуалки рекомендую ресурс в Крыму: https://sexanketa-krym.com/evpatoriya.html . Евпатория – шлюхи и проститутки для вашего досуга.
360-degree video bootcamp
What is 360 and what is the difference between IR, AR and VR? Who wants 360? Who should have 360? What is the appetite for 360 and what role does it play? What kit do you need? Find out the answer to these questions and learn how to tell a story, guide the audience, edit the pictures and follow a narrative arc, in our 360-degree video bootcamp with Dean Arnett, award-winning, ex-BBC, independent video and documentary producer.
[button link="https://www.journalism.co.uk/s195/" size="small" color="pink" text-input-id="Clear" window="yes"]Buy tickets[/button]
Newsrewired+ tickets are available for £368 +VAT. They represent a 10 per cent discount compared to booking tickets for both days separately.
Both the conference and training day are hosted at the Reuters office in Canary Wharf, London.