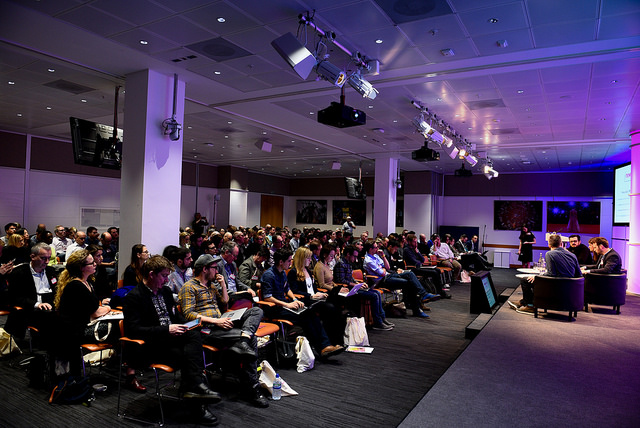 With the next newsrewired fast approaching, the Journalism.co.uk team is pleased to announce more speakers will be joining us on stage to discuss the latest trends and techniques in digital journalism, including key figures from CNN, Le Monde, The Centre for Community Journalism, and Al Jazeera.
The newsrewired conference takes place on 19 July at the Reuters HQ in Canary Wharf, London, followed by a full day of training on 20 July exploring 360-degree video, digital storytelling, and social video.
Check out the full agenda for newsrewired here. Joining the expert speaker line-up on the day will be:
• Matt Wells, senior editor, programming and alerts, CNN Digital Worldwide. Matt oversees digital output across all of CNN's international platforms, and he will be joining a panel on discussing best practice and innovation with push alerts on smartphones, alongside Des Shoe, senior staff editor, The New York Times, London bureau, Subhajit Banerjee, product manager, mobile, Condé Nast International, and Sasha Koren, editor, Guardian Mobile Innovation Lab.
[button link="https://www.journalism.co.uk/s195/" text-input-id="Clear"]Buy tickets[/button]
• Aline Leclerc, reporter, Le Monde. Aline created and coordinated "Françaises, Français", a year-long project aimed at giving an echo to the concerns of French citizens during the presidential election of 2017. She will join Maeve McClenaghan, investigative journalist, The Bureau of Investigative Journalism,  Bureau Local team, on the opening panel looking at ways to tell local stories with impact.
• Moeed Ahmad, head of the Innovation & Research Group of the Digital Division at Al Jazeera. Moeed joined Al Jazeera in 2005; today his group is responsible for utilising new technologies and innovation in media to broaden Al Jazeera's audience base, distribution and engagement. He will be speaking on a panel exploring more engaging ways to share audio on social media, joining Charles Ubaghs, head of social media, Global.
• Sumaiya Omar, social media consultant and founder of social video company HashtagOurStories. She specialises in reducing costs for media houses and easing digital workflows so creatives can focus on telling better stories. In a workshop, she will be speaking about "the biggest revolution in video since the television": stories. If you think all social apps are starting to look the same, they are. levitra originale acquisto http://palazzodiamanti.it/lib/inc/acquistare-vardenafil-generico-e-levitra-originale.html vardenafil 20mg The camera is the new keyboard and the future of social media looks like photos, Gifs, text, videos and music, mixed into vertical cards. They call this all-in-one experience 'Stories'.
• Emma Meese, manager of the Centre for Community Journalism (C4CJ), and director of the newly formed Independent Community News Network (ICNN). In a spotlight talk at newsrewired, she will be highlight how ICNN is supporting and representing community news in the UK.
The agenda will also include talks on collaboration between journalists and coders, news brand attribution on social media and search, and the Refugee Journalism Project in the UK, with a keynote from Sasha Koren of the Guardian Mobile Innovation Lab.
Tickets are available for 180+VAT for the conference on 19 July, or £368+VAT for a newsrewired+ ticket that gives you access to the conference and one of the three training courses on 20 July.