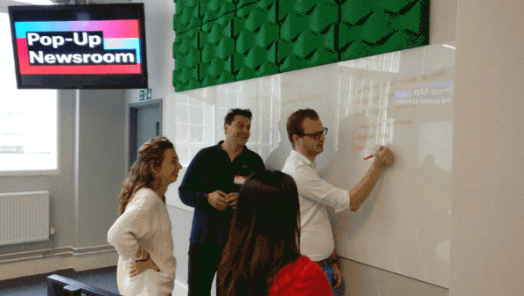 How can we make digital editorial collaborations more efficient? Pop-Up Newsroom, a joint initiative from Meedan and Dig Deeper Media, launched in June with the aim of setting up a framework that encourages both editorial and technological innovation.
The concept was partly inspired by Electionland, the collaborative effort around voting issues related to the US election. The aim was to replicate the project's "nimble, agile and experimental nature", co-founder Tom Trewinnard, who leads business development and partnerships at Meedan, told Journalism.co.uk in a recent podcast.
"The reason this idea came up is because in our area of interest, social newsgathering and verification, a lot of time, money, expertise, conference space, and blogs have been dedicated to harnessing social media for publishing," Fergus Bell, founder of Dig Deeper Media and co-founder of Pop-Up Newsroom, added.
"But a disproportionate amount of time, effort and conversation has been spent on fostering innovation in newsgathering.
"So we decided the best way to do this was to create a framework for driving innovation forward in a way that allowed us to catch up with the innovation on the publishing side of things."
Trewinnard and Bell wanted to do in-person collaborations on a given topic, for example the UK general election, bringing people from different backgrounds and expertise in the same room for a day to identify some of the common opportunities and solve some of the challenges this issue was posing.
Lessons and takeaways from each Pop-Up Newsroom are also compiled into a report published after each experiment, to allow both participants and other people build on the findings.
Journalism students, journalists and technology companies such as NewsWhip and Krzana collaborated on the #GE2017 Pop-Up Newsroom supported by Google News Lab. Participants could shape how the day was going to unfold.
"We went through this process where you really try to encourage people to think through what are the challenges of covering an election in real-time, what are the opportunities and how can we put something together that can allow us to do something that's creative and experimental?
"We didn't sit down for an hour and decide what the day was going to look like, instead we'd do something for an hour and if that wasn't working, we'd have a meeting and try to get feedback as we were going and make changes."
They also used human-centred design in their approach, traditionally used to create objects, spaces and physical products. It "encourages you to deconstruct problems and frame opportunities in a way that can push you forward", Trewinnard explained. The approach they used, advocated by the Luma Institute and Knight Prototype Fund, offers methods for finding, understanding and addressing a problem.
"We wanted to learn from technology sprints because they're very efficient at iterating on concepts and improving them really quickly, so we wanted to bring this to editorial problems," said Bell.
"Instead of using [design thinking] to solve a technical issue, we're using it to solve an editorial issue, whether that's a newsroom workflow or a specific type of newsgathering. Is there a way that we can collaborate around migrant storytelling, or hyperlocal or even VR?"
The other benefit of Pop-Up Newsroom was for technology and product companies to get real-time data and feedback on how journalists use their tools and platforms, which can serve to tweak or expand a product much quicker.
That was the case for Meedan, who has built newsroom tools such as Check and Bridge, and for Krzana, a tool that was not originally intended for journalists, yet newsgathering has become one of its use cases.
"We often do testing where we sit and have people work through a common flow, but it's really not that common that you can sit next to a journalist and see them using Check," Trewinnard explained.
"You can really find out where the problems are, and it can be simple design things, it can be related to features that are needed, or which are really working – it's a very valuable data source for us that can really help advise our development roadmap."
In the future, Pop-Up Newsroom aims to tackle other election projects as well as different newsgathering challenges. The co-founders believe the format can apply to many issues, and they are striving to get a diverse range of participants each time, both from larger and smaller news organisations.
Obtaining funding is also challenging, as collaborative initiatives are harder to fund in Europe than they are in the US.
"Our argument is let's have one in person sprint and get more done than in the number of weeks or days it would take to do it virtually," said Bell.
"The other mission is to learn how collaboration works in person, so that we can start to replicate that digitally in a way that's accurate rather that in the way we think it works."
This article was originally published on Journalism.co.uk.