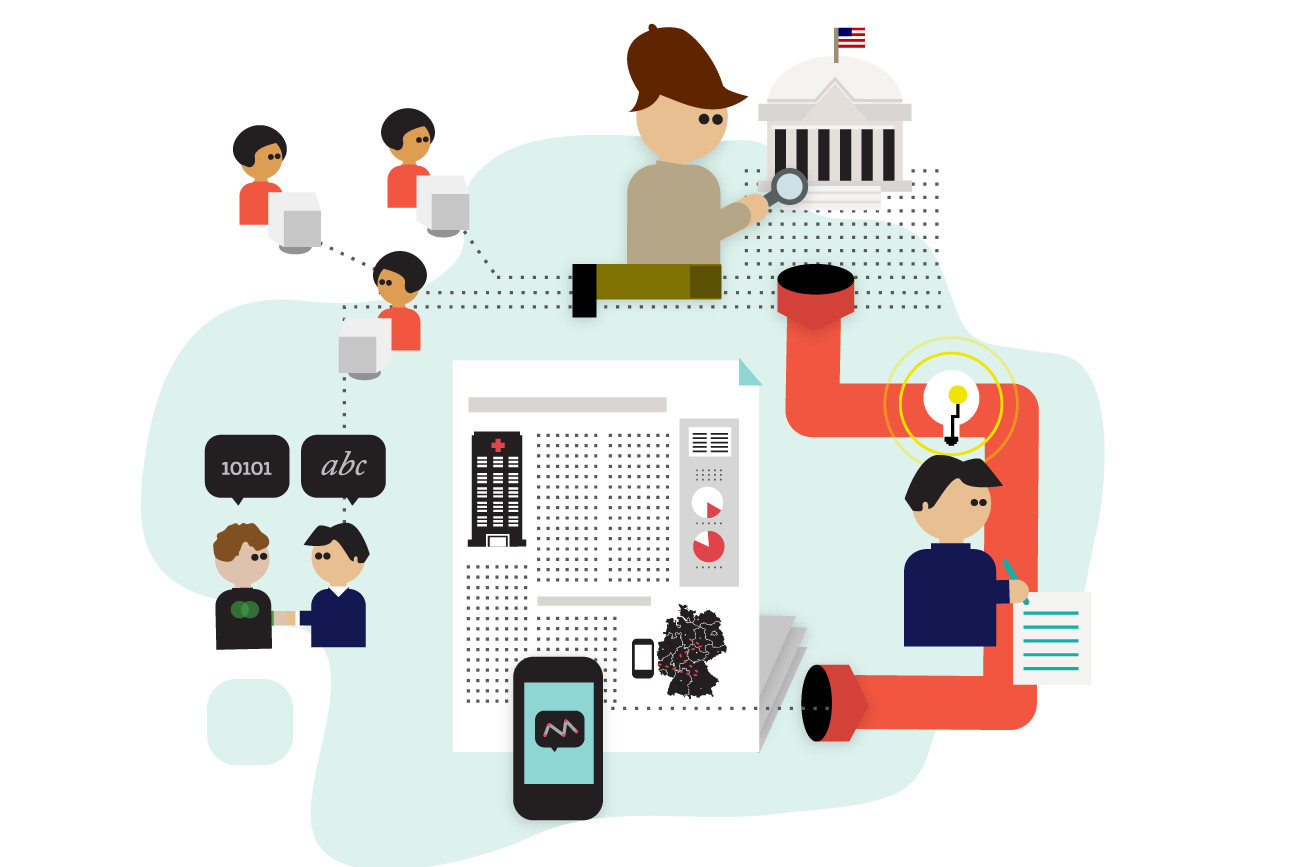 At today's news:rewired conference, Leila Haddou, data journalist at The Times and Sunday Times, shared her favourite free and open-source tools to help journalists develop better skills for interactive and visual reporting.
The tools range from story gathering to data visualisation and digital storytelling. There's no technical expertise required here, just a bit of playing around and getting to know each tool to master it.
Story gathering

If you're searching for someone online and Google isn't giving you what you need, Web Mii is a good alternative to track down people on social media, plus any associated websites, published stories or blogs. 
To extract contract information, ContactOut and Lusha are two useful extensions for the Chrome web browser that will help you uncover phone numbers and emails. They are more effective when used together, and ContactOut allows you to export contact info directly to an Excel sheet. 
Transcribing interview audio can be tedious, but a free tool called O Transcribe can help speed things up. You can transcribe from audio recordings or YouTube videos using keyboard shortcuts to speed up or slow down the pace of the recording, or to jump backwards or forwards.
For increased privacy protection and secure communication with sources, Mailevelope offers integrated PGP encryption for most major email providers. However, email subjects are not encrypted, so Haddou advises not using an obvious subject line such as TOP SECRET. Mailevelope also doesn't encrypt email attachments, but you can do that with another tool called Veracrypt.
Other useful communication apps include Signal and WhatsApp. The latter is more popular with journalists, explained Haddou, though Signal is more secure. 
Finding data online

The Freedom of Information (FOI) request archive WhatDoTheyKnow is a treasure trove of interesting data. Journalists can also make FOI requests through the website, though the downside of this is that everyone can see them. However, a pro version of the platform is launching soon that allows to make private FOI requests. 
If you want to see how newspaper sites – or any other site – looked in 2001, WaybackMachine is an internet archive containing previous versions of most major websites. Simply enter the URL of the site you're interested in and search to go back in time. "It's just fantastic," said Haddou.
Archive.is is a browser add-on that allows you to take a 'screen-shot' of a webpage that will remain online even if the original page disappears. It's a useful tool to monitor what your competitors are publishing, but be aware that whatever you're saving others can see it too.
For financial and business journalists, OpenCorporates is a good open-source tool for investigating companies of interest. Elsewhere, OpenOwnership is an authoritative source of data on company ownership while OpenGazettes shows public and legal notices. Haddou found this latter tool extremely useful for her story on pension dumping when she worked at The Financial Times.
Lastly, OffshoreLeaks is a database containing information on more than 520,000 offshore entities and proved useful to many journalists investigating the Panama Papers.
Data visualisation
To help you make sense of large datasets, NEO4j can help you see the bigger picture much quicker than Excel. Though it might seem tricky in the beginning once you get the hang of it it's not that difficult, explained Haddou, who used it for her Financial Times investigation How China bought its way into Cambodia.
IFTTT is another tool that can be used to create datasets without any coding at all. And when it comes to cleaning data, Open Refine is ideal. It doesn't touch your original data and it avoids mistakes when cleaning that are more likely to happen with Excel, said Haddou.
"You don't need coding to make good data visualisations," she added. Other useful data viz tools that don't require any coding skills include Flourish (launching soon), Datawrapper, Plotly, Tableau, RawGraphs. Haddou encourages trying them all out to find one to suit you. 
Join Journocoders
Last but not least, Haddou gave a plug to the monthlyJournocoders meetup she co-organises, which aims to help journalists develop skills to use in their reporting through mutual teaching and learning.