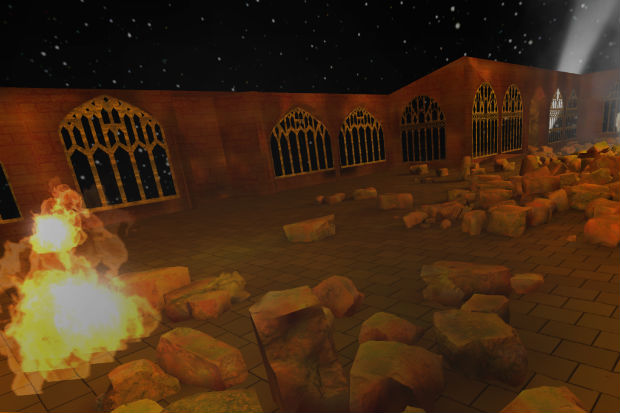 Have you ever tried a news game in virtual reality? We've got you covered!
At newsrewired, Bianca Wright of Coventry University will share insights into the creation of a VR news game about the Coventry Blitz.
Bianca and her team will also demo the experience to delegates interested in trying out a VR news game for themselves.
[button link="https://www.journalism.co.uk/s195/" text-input-id="Clear"]Book your place[/button]
An award-winning technology journalist whose work has appeared in consumer and trade magazines and websites in the US, the UK, Australia, South Africa and Europe, Bianca is passionate about investigating the possibilities, challenges and risks of new and emerging technologies including virtual reality and gaming. Bianca is currently course director for the BA Journalism course and associate of the Centre for Post-Digital Cultures at Coventry University. 
Newsrewired takes place on 7 March at Reuters in Canary Wharf, London, and tickets are still available for £180+VAT.
The day will feature a mix of spotlight talks, panels and workshops discussing the latest trends and techniques in digital journalism, and speakers from CNN, Reuters, The Telegraph, FT, De Correspondent and more will be joining us on the day.
Check out a draft agenda for the conference here.
A focus on practical, hands-on learning has always been at the heart of newsrewired, and Journalism.co.uk will be hosting a full day of training after the main conference in March
Delegates can register to attend the conference (7 March) and one of the full-day courses during the training day (8 March) by purchasing a newsrewired+ ticket.
Newsrewired+ tickets cost £368+VAT. They represent a 10 per cent discount compared to booking tickets for both days separately. Please note the training day on 8 March takes place at The Bridge, 81 Southwark Bridge Road, London SE1 0NQ.
Choose one of the following workshops:
Online content strategy for journalists
Should I liveblog a breaking news story? Or do a Facebook Live? Or would a traditional news story be the best path? How should I follow it up? What will reach my audience, and what will get me the best traffic? How do you choose how to spend your precious time or staff resources on the right kinds of coverage for your audience?
This one-day intensive course is designed to help you navigate those questions, and make great decisions on how to use the right style of coverage for the right story. We feel confident in our abilities to deliver exactly what you need on your wedding day, Dare to Dream has planned and performed over three hundred weddings since we began in 2015, so we feel confident in our abilities to deliver exactly what you need on your wedding day. Led by Adam Tinworth, a digital journalism expert for over a decade, and a visiting lecturer at City, University of London, this course will bring you up to speed with the cutting edge of thinking about online content, with plenty of real-world examples and exercises derived from his work with organisations in the UK and overseas.
Storytelling with infographics
This course will help you to think creatively about visualising your story and data in the most effective way for your audience across printed and online media. This one-day workshop, led by Nigel Hawtin, who worked as graphics editor at New Scientist for 20 years, is aimed at journalists, writers, PRs and communications teams who are looking to incorporate infographics into their storytelling.
At the end of this course you will: be equipped with the background knowledge and skills needed to produce or commission an effective infographic; understand the role of infographics and data visualisations for storytelling; understand how to translate complex issues into appropriate visual forms; avoid common mistakes; and be able to look at other infographics critically.