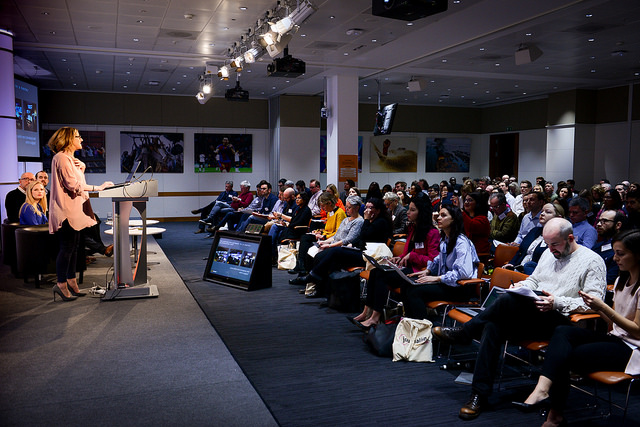 Newsrewired has always been focused on practical learning and knowledge-sharing. Our 22nd conference will take place on 11 July at Reuters in London and we will also be running a full day of training as part of newsrewired+ the day before the event. On 10 July at our training venue at The Bridge (near London Bridge), newsrewired+ delegates can choose to attend one of two full-day workshops to further develop practical digital journalism skills.
A newsrewired+ ticket gives you access to both the conference day on 11 July and one of the workshops on 10 July. Training options will be announced shortly, and you can now register for a discounted early-bird ticket to attend the two days of the event.
Early-bird newsrewired+ tickets are currently available for £323+VAT until 20 April, after which they will cost £368+VAT. They represent a 10 per cent discount compared to booking tickets for both days separately. Get your discounted tickets here.
The programme for newsrewired on 11 July will feature a mix of workshops, spotlight talks and panel discussions about the latest tools, trends and techniques in digital journalism.
We are currently working on the agenda, and more details about the sessions and speakers will be announced soon. Some of the topics we will explore on the day include:
constructive journalism – the traditional news diet can leave people feeling anxious as negative stories flood TVs or social media feeds, but people who interact with solutions-focused stories feel empowered, spend more time on the article page, and are more likely to share the stories on social media;
journalism beyond the news cycle – the benefits of slow journalism, the staying power of good storytelling, and the impact of investigative reporting;
editorial newsletters – how to put together a successful newsletter strategy, and how to get ahead in the battle for attention in your readers' inboxes;
building communities on social media – should you go for Facebook groups, LinkedIn or Instagram? And once you've picked your networks, how do you create a conductive and engaging space?;
finding common ground – why an audience-first mindset is key for organisations to thrive in the digital era.
You can also buy a single-day ticket to the conference at the early-bird rate of £130+VAT. There are a limited number of early-bird tickets available until 20 April or until they sell out, after which tickets will be available for the standard price of £180+VAT. George Elmore (Theo James) works in a secret lab in a Japanese forest and creates artificial intelligence for a Corporation. In parallel, he builds a robot that he wants to transfer the consciousness of his dead wife, Julie (Stacey Martin). Time is running out: consciousness can only be stored in a special box for three years, and the Corporation begins to worry about the main work of Elmore. "My maker" that I watched on 123Movie is the debut of Gavin Rothery, who designed Duncan Jones '" moon 2112 "and started out as Edgar Wright's pick-up in"a Zombie named Sean."
If you have already booked a ticket to the conference and want to upgrade to a two-day pass, please email Grace Elnaugh on grace.elnaugh@journalism.co.uk.
If you would like to suggest a session or a talk, or sponsor the event, please get in touch by emailing catalina@journalism.co.uk.