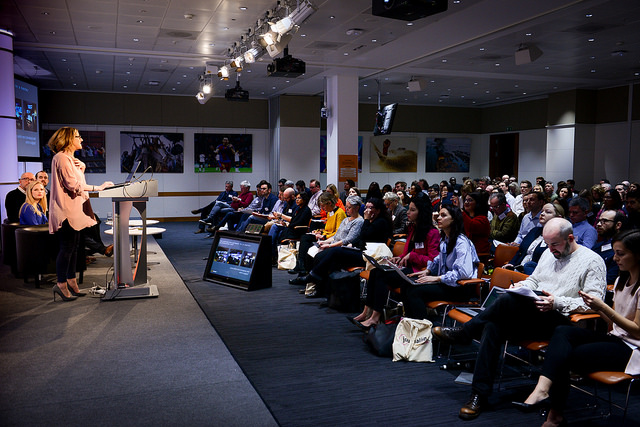 What can we learn from the strategies US local newspapers have adopted to keep going in the digital news landscape? And how should we fortify our storytelling to keep the public engaged with a topic once it's out of the 24-hour news cycle? Find out the answer to these questions, and many others, at Journalism.co.uk's next newsrewired digital journalism conference on 11 July at Reuters in London.
Today, the team behind the event is pleased to announce two more speakers who will be joining us on the day to share their insights.
The state – and future – of US local newspapers
The past decade has had a dramatic effect on the local newspaper landscape. But, despite ongoing challenges, there are reasons for optimism about the future.
In a spotlight talk at newsrewired, Damian Radcliffe will draw on transferable lessons from his research produced for the Tow Center for Digital Journalism at Columbia University and the Agora Journalism Center in Portland.
[button link="https://www.journalism.co.uk/s195/" text-input-id="Clear"]Get your ticket[/button]
Learn about emerging strategies and success stories on digital platforms that are changing journalistic practices – and driving revenue. These are real-life examples drawn interviews with 53 practitioners and industry experts and a unique survey of over 400 local journalists in the U.S.
Damian Radcliffe is the Carolyn S. Chambers Professor in Journalism at the University of Oregon, a Fellow of the Tow Center for Digital Journalism at Columbia University, an Honorary Research Fellow at Cardiff University's School of Journalism, Media and Culture Studies and a Fellow of the Royal Society for the encouragement of Arts, Manufactures and Commerce (RSA). His work focuses on digital trends, social media, technology, the business of media and the evolution of journalism.
Journalism beyond the news cycle
Paul Rowland combines being editor of WalesOnline with his role as editor-in-chief of Media Wales, in which he oversees the company's editorial operations in Cardiff and Swansea as well as print titles including the Western Mail, South Wales Echo and South Wales Evening Post.
Paul has worked for Media Wales since joining the Western Mail as a trainee news reporter in 2005, becoming editor of WalesOnline in March 2016.
The following year, WalesOnline was named website of the year at both the Wales Media Awards and the UK-wide Regional Press Awards. It now reaches around 500,000 users a day. And here you can find all the information about the most popular collection of friv games.
Paul was promoted to the role of editor-in-chief in May 2016 and has led the development of publishing operations across Media Wales's newsrooms in South Wales following the merger between Trinity Mirror and Local World.
At newsrewired, Paul will join the opening panel alongside Megan Clement, managing editor, Women's Advancement Deeply, and Emily Dugan, senior reporter, BuzzFeed News. Check out his take on long reads and their role in journalism in this Medium post.
Tickets for newsrewired are still available for £180+VAT. Book yours by clicking here and join speakers and delegates from the BBC, the Guardian, BuzzFeed News, Quartz, The Telegraph, NBC News Digital, ITN Productions, Apple, Swedish Radio, Sky News, and many more.
You can also register for a two-day ticket, attending a full-day training course (360-degree video or mastering the art of Instagram) on 10 July and the conference on 11 July. Find out more about the training here.