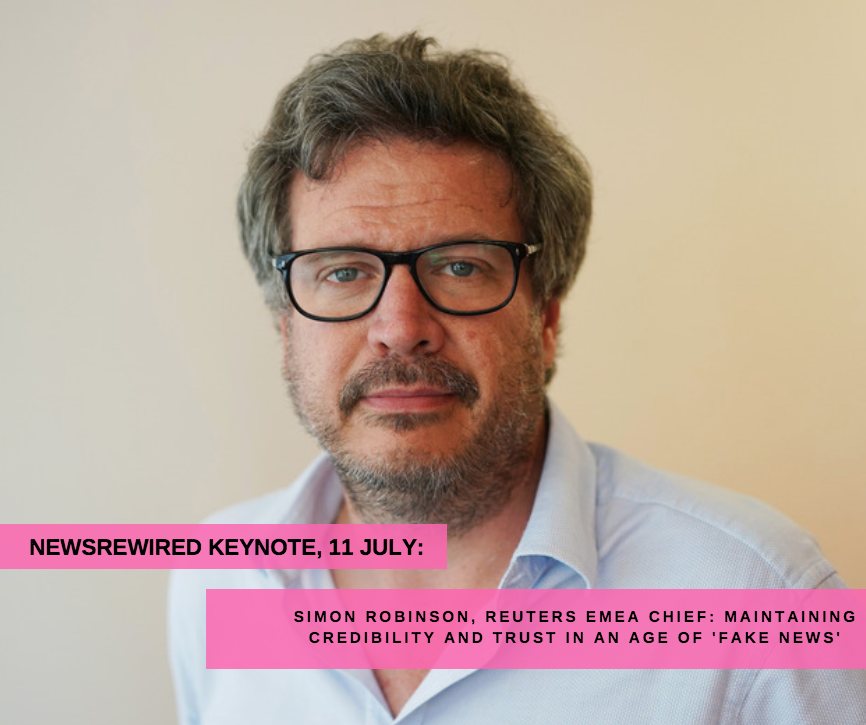 The world is awash with claims of fake news. Digital technologies have radically changed the way news is created and consumed. Social media allows misinformation to spread at lightning speed. Journalism is facing a crisis of trust in an era when reliable, impartial news is more important than ever. How should news providers respond?
In the keynote speech at newsrewired on 11 July, Reuters EMEA chief, Simon Robinson, will explain how the world's largest international multimedia news provider is addressing these issues by focusing on robust reporting, maintaining independence, increasing transparency and, when they occur, correcting mistakes quickly. The media landscape may have changed dramatically, but the best modern journalism, he will argue, is rooted in old-fashioned reporting values.
[button link="https://www.journalism.co.uk/s195/" text-input-id="Clear"]Buy tickets[/button]
Robinson is regional editor for Europe, Middle East and Africa at Reuters. He directs newsgathering and reporting in the region, and oversees budget, strategy, hiring, legal and security issues. Robinson joined the news service in 2010 and ran investigations and enterprise reporting in EMEA for six years, editing award-winning series on Iran, Russia, corporate taxation, Greek banks and migration.
Simon edited two Pulitzer finalists, packages of stories on Libya and on Iraq. Hot escort girls with verified pictures. Between 1995 and 2010 he was a correspondent and then editor for Time magazine, reporting from more than 50 countries in Africa, South Asia, the Middle East and Europe. He has published short stories, and wrote and produced an award-winning satirical movie about aid workers and journalists in Africa.
Newsrewired takes place on 11 July at Reuters in Canary Wharf, London. The programme includes talks, panels and workshops on journalism beyond the news cycle, editorial newsletters, building communities on social media, audience-first journalism, and learning from local news outlets in the US.
Tickets for newsrewired are still available for £180+VAT. Book yours by clicking here and join speakers and delegates from the BBC, the Guardian, BuzzFeed News, Quartz, The Telegraph, NBC News Digital, ITN Productions, Apple, Swedish Radio, Sky News, and many more.
You can also register for a two-day ticket, attending a full-day training course (360-degree video or mastering the art of Instagram) on 10 July and the conference on 11 July. Find out more about the training here.