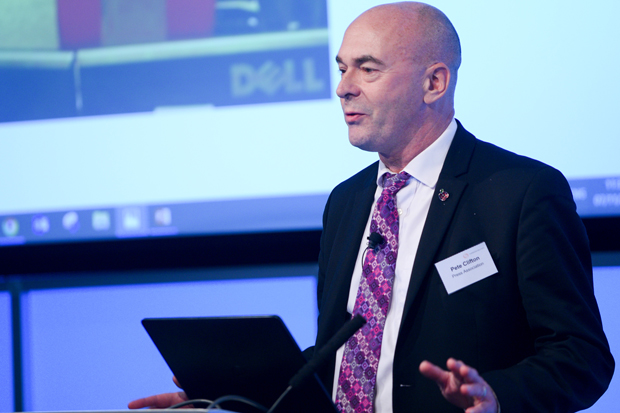 The Press Association's latest news service RADAR — 'reporters and data and robots' — uses those three ingredients to write local news stories at a frequency and precision impossible otherwise.
Launched in December 2017 with Urbs Media and a €150m injection from Google's Digital News Initiative (DNI) Innovation Fund, the AI technology uses publicly available datasets covering areas such as crime, health education education and transport, and boils it down into individual local authority or postcode level.
Worth mentioning reporters were specifically recruited for the RADAR project, a team of six reporters identify interesting lines within the data and attribute them with a range of phrases and sentences that describe its impact, such as 'higher than the national average'.
Speaking at newsrewired (7 November) Pete Clifton, editor-in-chief, Press Association, says RADAR then uses national language generation processing to use this guideline to produce an eight or nine paragraph story that tells the particular story for every local authority within each dataset.
"We could expect to produce 300-400 versions of the story and every one of them would be specific to that town or local authority," explained Clifton.
"There will be some similar phrases within each one because there is only a certain number of things we put in to describe it, but every one reads well as a self-contained piece of content."
Each story then gets uploaded to the RADAR websites where Press Association customers can either choose to simply use the piece as it is, or it can also prove a good starting point to then report reaction and wider context and turn it into a front page splash or inside spread.
"This isn't about replacing, it is about us doing an extra level of coverage that we could never aspire to do," he said. "Even though Press association has an awful lot of journalists based around the country, to get into this level of detail for every town would be an impossibility without this technology.
"This is about using technology in tandem with actually a new set of reporters — we've actually recruited more reporters to do this — if you bring those two things together, it gives you a level of additional coverage, it's not replacement coverage." echo
Clifton says this is evidence of how journalistic talent and AI can strengthen local democracy, placing scrutiny on how tax payers money is being spent. He said that the tool has produced 50,000 local news stories within the last three months of its trial period.
"RADAR has enabled us to offer a much greater level of localised content that we could ever aspire to otherwise. it is a good fit for us, showing us to be imaginative and innovative about how we use technology and for our customer, its good news because it definitely adds to that pot of content that we are offering to regional and local customer."
Moving forward, Press Association are in discussions to commercialise the service as the trial runs to a close, where it would enter a 'sliding-scale' subscription service based on how many local authorities would be used.