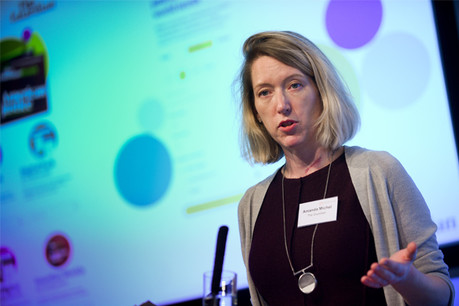 Three years ago, the Guardian decided to re-evaluate its membership scheme, trialling contributions on its website, and building a team within the newsroom to oversee its growth and evolution.
Since 2016, the Guardian has grown from 15,000 members to over 570,000 regular paying supporters, members and subscribers in June 2018. It also received an additional 375,000 one-off contributions globally in the past 12 months.
Readers are able to lend support to a series or reporting endeavour, or even support as part of a patron scheme, and some loyal readers have even left the publisher money in their will as 'legacy contributions'.
So, how have they made their membership scheme so successful, and what lessons did they learn along the way?
Speaking at newsrewired on 7 November, Amanda Michel, the Guardian's global contributions director and product manager, gave her five lessons from what the team has learned over the past three years, constantly re-evaluating and talking to readers.
1. Start by asking people to support your purpose
"This sounds simple, but its not," she said, noting that publishers often think they need to give readers something in return, like tickets, books or experiences – but a simple appeal is sufficient in of itself.
"There is an inherent concern that something has to be offered – but we learned from our readers that those sorts of things didn't matter, it didn't matter to them or drove their interest, and they certainly didn't want their money spent on things like tote bags."
2. Get your pitch right
"One of the most important factors in your success is the pitch," she said.
"Learning to ask is about trying to narrate what you're trying to do and why," she said, noting that it is crucial to explain to readers the role it plays in society.
"This can be difficult for news organisations because we pride ourselves on our storytelling ability, but now we have to tell our own story – this means developing an organisational self-awareness and learning to perceive yourself as your readers do."
For example, when the Guardian would tell readers it had 160m readers, they thought the organisation was racking in cash – for them, the size of the readership equated to how much money they were making.
The publisher wrote one specific pitch to readers, addressing the reader directly, acknowledging what is happening in the media landscape, and reassuring them that no contribution is too small.
"A lot of people are surprised that our appeal is long, but our audience reads our journalism, and through research such as surveys, live AB test and test groups, we heard that shorter appeals feel half-done – feeling like you are effectively running past someone in the street and yelling 'can you help' before running off." she said.
3. Find the right place for your appeal
"We found that our pitch worked best alongside the journalism," she said, noting it was most natural for readers after they had read a story to be asked to contribute, and also only fair to ask as well, instead of putting up barriers in front of their content.
"We didn't want it to be an interruption."
4. Make it easy
"We have received single contributions from readers in 170 countries – making it easy and intuitive to contribute, regardless of somewhere someone lives takes work," she said.
"Different countries have different payment methods, currencies and languages, and we need to make making the decision easy."
When someone contributes to the publisher, they set the terms. They decide how much, how often and how to pay, which means they have to make several decisions on top of paying.
"We have gotten obsessive over the process, to try to make it as intuitive as possible."
5. Assemble the needed skills in one team
A small-cross disciplinary team starts more slowly but succeeds sooner, Michel explained, noting the Guardian involved people from across the publisher from marketing, editorial UX and engineering departments to collaborate and test it out. Paskolos internetu – Finansiniai patarimai ir naujienos
"We tested everything along the way, making hypothesis as to what would be the end effect of the work? It meant we could learn together as a team when we reviewed the results."