Home » Archive by Tags
Articles tagged with: Reuters institute for the Study of Journalism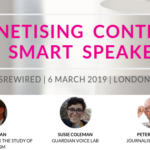 Despite the rise in sales of voice-controlled devices, such as Amazon Alexa or Google Home, the difficulty of monetising content holds publishers back from innovating on voice platforms.
One of the panels at the Newsrewired conference will explore projects by early adopters and look at the benefits of investing in smart, speaker-friendly content.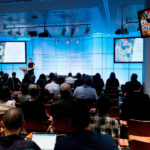 We are pleased to announce more confirmed speakers ahead of our newsrewired conference on 6 March 2019 at Reuters, London, UK.
Rouven Leuener, group head of digital product at Neue Zürcher Zeitung; Jess Brammar, head of news at HuffPost UK; Matthew Barraclough, head of Local News Partnerships at BBC; and Nic Newman, senior research associate at the Reuters Institute for the Study of Journalism.