Home » Event news
How can the media make the most of voice-controlled devices?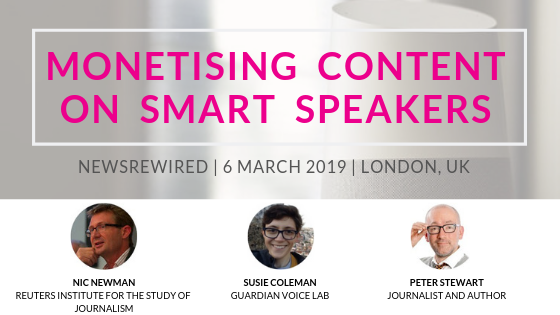 Despite the rise in sales of voice-controlled devices, such as Amazon Alexa or Google Home, the difficulty of monetising content holds publishers back from innovating on voice platforms.
One of the panels at the Newsrewired conference will explore projects by early adopters and look at the benefits of investing in smart, speaker-friendly content.
"These technologies are still at an early stage. We will increasingly use our voice to control devices and access media, because it is quicker and more convenient than touchscreens or remote controls"
Nic Newman, senior research associate
Reuters Institute for the Study of Journalism
Other panel topics
Keynote | Future of digital innovation: personalised content, voice, and dynamic paywalls
Local news: breaking out of the London bubble
Financing journalism in the digital age
Blockchain technology has the power to fight censorship – but it could help perpetuate misinformation
Workshop: How to reinvent your mobile storytelling
Who is investing in solutions journalism?
…and more
If you would like to suggest a session or a talk, or sponsor the event, please get in touch by emailing marcela@journalism.co.uk
Related posts
Tags: Alexa, audio content, Google Home, Guardia Voice Lab, monetisation, Nic Newman, podcasting, Reuters institute for the Study of Journalism, revenue, smart speakers, voice-controlled devices