news:rewired – beyond the story, on Thursday 16 December, is an event aimed at journalists and communications professionals who want to make their content more powerful using digital media tools. We hope it will address specialist publishers or those with a niche interest or audience in particular, whether that's by community, interest or platform – but which companies are taking SEO, linked data and online business models most seriously and sending along delegates?
To answer this question, we have created this Wordle, showing where those delegates that wish to be listed work: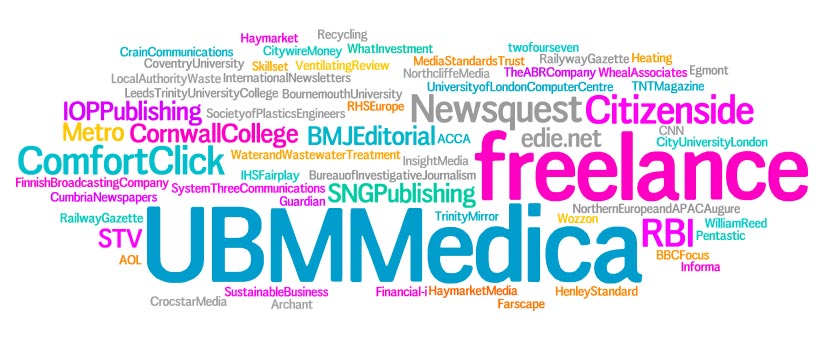 UBM Medica comes out top with eight staff attending followed by freelancers, who have bought seven tickets between them. Why not buy a ticket and get your company or title on our Wordle?
Who's sending who?
UBM Medica = 8
Freelance = 7
ACCA = 3
Citizenside =  3
ComfortClick = 3
Newsquest = 3
RBI = 3
Metro = 2
edie.net = 2
BMJ Editorial = 2
Railway Gazette =  2
STV = 2
SNG Publishing = 2
Cornwall College = 2
IOP Publishing = 2
Crocstar Media = 1
TNT magazine = 1
Finnish Broadcasting Company = 1
Henley Standard = 1
Skillset = 1
The ABR Company = 1
University of London Computer Centre = 1
The Guardian = 1
Water and Wastewater Treatment = 1
Media Standards Trust = 1
International Newsletters = 1
Egmont = 1
Farscape = 1
William Reed = 1
Northern Europe and APAC Augure = 1
BBC Focus = 1
System Three Communications = 1
Informa = 1
Wozzon = 1
twofourseven = 1
Local Authority Waste & Recycling = 1
Trinity Mirror = 1
Citywire Money = 1
Haymarket = 1
Cumbria Newspapers = 1
Pentastic = 1
Crain Communications = 1
RHS Europe = 1
What Investment = 1
Bournemouth University = 1
Wheal Associates = 1
Society of Plastics Engineers = 1
Financial-i = 1
Sustainable Business = 1
IHS Fairplay = 1
The Bureau of Investigative Journalism =  1
Insight Media = 1
Northcliffe Media = 1
City University London = 1
AOL UK = 1
Haymarket Media = 1
CNN = 1
Coventry University = 1
Heating & Ventilating Review = 1
Leeds Trinity University College = 1
Archant = 1