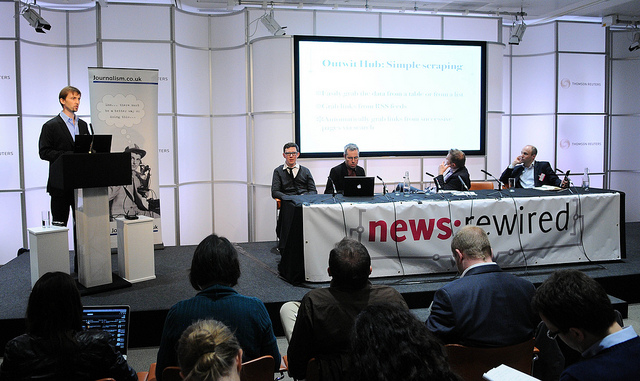 Here are the presentations from Session 1A – 'The data journalism toolkit', at last week's news:rewired conference.
The session featured:
Kevin Anderson, data journalism trainer and digital strategist; James Ball, data journalist, Guardian investigations team ; Martin Stabe, interactive producer, FT.com. Simon Rogers; editor, Guardian datablog and datastore. Moderated by David Hayward, head of journalism programme, BBC College of Journalism.
Kevin Anderson, digital strategist
James Ball, data journalist, the Guardian
Martin Stabe, interactive producer, Financial Times
Simon Rogers, editor of the Guardian datablog and datastore
Some URLs and a presentation from Simon Rogers:
http://www.guardian.co.uk/data
http://www.guardian.co.uk/news/datablog/2011/may/22/nato-libya-data-journalism-operations-country
http://www.guardian.co.uk/news/datablog/interactive/2011/may/23/libya-nato-bombing-no-fly-zone
http://www.nato.int/cps/en/natolive/71679.htm
http://prezi.com/0czlhbezibbj/data-journalism-workflow/
http://www.guardian.co.uk/world/datablog/interactive/2010/oct/23/wikileaks-iraq-deaths-map
http://www.guardian.co.uk/news/datablog/interactive/2011/may/19/ethnic-breakdown-england-wales