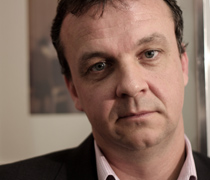 In the run up to news:rewired we'll be publishing some thoughts from our speakers on the subject of their session. Rory Brown is the co-founder of Briefing Media Ltd, a new business media company covering a range of niche vertical markets. The company's first site is www.TheMediaBriefing.com which provides strategic intelligence and opinion for business-to-business, newspapers, consumer magazines, radio, TV, film, digital media, mobile and media finance.
Rick's session:
Branding and entrepreneurialism

How important is a brand to news organisations and can you teach a journalist to be entrepreneurial? What can journalists and communicators online learn from brands, start-ups and non-media businesses to make their work more successful?


With: Rory Brown, founder, Briefing Media; Alex Wood, digital consultant and founder, notonthewires; Rick Waghorn, founder, MyFootballWriter and Addiply; Molly Flatt, 1000heads
The media world is changing rapidly. From an impartial, faceless medium where consumers primary relationship was with a media brand; we are increasingly seeing those relationships become a lot more personal. Increasingly I follow individual journalists and commentators – regardless of where they write or broadcast – because I feel as though I have some form of relationship with them.
Search and social media have been the main drivers of this change and it is important that journalists understand this. You have to both develop a personal brand and also understand how to best make that brand 'discoverable'. Think about what you stand for; what makes you different and how you want your relationship with readers to develop. Think about the ways in which readers or viewers consume information. Build personal networks and leverage those networks across multiple platforms.
For media startups the same lessons apply. Start with the reader in mind. What are their pain points? Where are they spending their time? How can you help them? What does your brand stand for?
When we launched TheMediaBriefing.com we began from the premise that readers didn't have the time to trawl around multiple sources of information. They wanted a single place that they could go which pulled in the news that was most relevant to them. They wanted to be able to follow people, companies and topics of relevance to them and they wanted that mixed together with opinion from thought leaders in their industry. Our brand had to stand out from the crowd, have personality and embrace the social aspects of media.
There are lessons her for any media organisation – and also for individual journalists.
Follow this link to buy tickets for news:rewired – beyond the story.