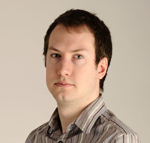 Community editors must not be sidelined in the newsroom, Ed Walker, online communities editor at Media Wales, told news:rewired delegates today.
Responding to @datamineruk, who described how digital staff at her workplace are based in a different part of the newsroom to other journalists, Walker said he sits next to an experienced senior reporter and can tap into his knowledge.
Walker founded Blog Preston, where he found that tapping into readers' local knowledge helped to generate traffic to the site because it produced content that people want to discuss. A regular topic was local character "Toxic Terry", a man who drinks petrol on the high street in Preston. Rumours of his demise sparked a spike in traffic, which only ebbed when someone saw him alive on the high street.
Walker had a number of suggestions about what makes a successful online community. One is focusing on popular topics like local history and getting input from experts. He also suggested making journalism a two-way street using interactive features like pothole maps.
Neil Perkin, founder of Only Dead Fish, said he has learned more about communities from being a blogger for four or five years than anything else. He unveiled a list of things to avoid when building communities:
Not having a clear objective – if you have clarity on your purpose, the people in that community have a reason to be there.
Avoid fixation on numbers – social media a source of referrals but don't chase numbers at the expense of saturation.
Don't broadcast at your community – to quote Clay Shirky, it's about creating an environment for supporting people.
Forget the idea that it's all about the technology – it's about the people. Understand who are the authoritative people in your market. People like something to do and respond to openness.
Avoid not being a part of it yourself.
Anthony Thornton, group digital editor at IPC Inspire Men and Music, started his presentation with the depressing figure that 99% of attempts to start a community end in failure. Anthony, who was instrumental in the launch of the online version of the NME, said that communities exist already, it's just a matter of finding one.
He also discussed how building a community around a book that he was working on helped it to gain a place in the Sunday Times' Top 10 Bestsellers list. The book, which focused on the indie band the Libertines, was embraced by fans after Anthony connected with them on Myspace ahead of publication. Sharing cover ideas and other content helped fans form a relationship with the book giving it an edge over a rival title, which was published at the same time.