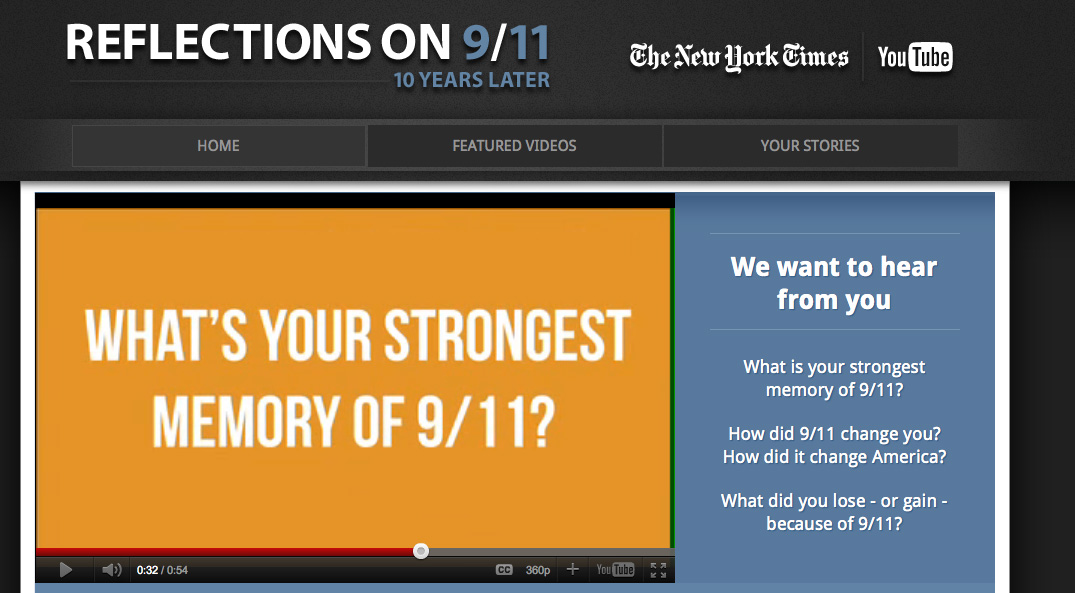 The Nieman Journalism Lab reports on a new collaboration for the New York Times, in the lead up to its coverage of the 10th anniversary of 9/11. The news outlet is teaming up with YouTube and curation platform Storyful in a bid to collect videos from the public answering one of the following questions:
What is your strongest memory of 9/11?
How did 9/11 change you? How did it change America?
What did you lose – or gain – because of 9/11?
It's an effort that should bring both intimacy and scale to the paper's coverage of the somber anniversary. By joining with YouTube, the Times gains a built-in video-sharing platform; by joining with Storyful, it gains expert curation for the videos it gathers. Both team-ups will likely expand the paper's reach while also allowing it to tell a story that is, at its core, intensely personal and human.
Nieman adds that the new project is also "a collaboration between the Times and itself", with the footage to be integrated within the Times' own coverage.
It will have its own landing page within NYTimes.com, first of all; and, as that anniversary nears, the Times and Storyful will select videos, probably six to eight or so at a time, that will be featured more prominently on the Times' website as a component of its user-generated reflections.
Find out more in the Nieman article or on the YouTube channel.