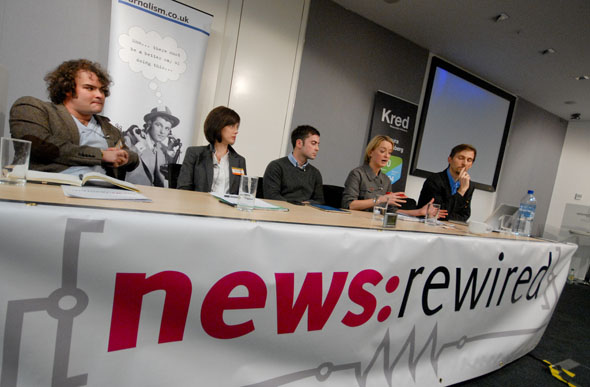 Speakers on the final panel at our last event, news:rewired – media in motion
We're pleased to announce more details about our next digital journalism conference, news:rewired – full stream ahead.
The one-day event will bring together key digital journalism experts for a day of sessions and workshops, focused on the latest tools, techniques and tips on how to produce the best journalism online and make it earn its keep, with innovative case studies from the industry.
Today we're announcing some of the speakers who will be taking part on the day (Friday 13 July).
Joanna Geary, digital development editor, the Guardian
Mark Johnson, community editor, the Economist
Craig Silverman, founder, Regret the Error (now published on Poynter)
Conrad Quilty-Harper, interactive news editor, the Telegraph
Jason Mills, editor of web development, ITV News
Luke Lewis, editor, NME.com
Paul Bradshaw, visiting professor in online journalism at City University London and Course Leader of the MA in Online Journalism at Birmingham City University. Paul is also publisher of the Online Journalism Blog and founder of Help Me Investigate.
Sessions at the one-day conference will cover:
how to work with and maximise engaged communities across platforms
the latest developments in mobile news publishing and how best to exploit portable platforms
the array of social media platforms at a journalist's disposal, beyond (and including) Twitter and Facebook
advice on handling rumour online and the recommended verification and correction processes
money matters – the latest approaches to making money from news online and what users are prepared to offer in exchange for content
how the 'live stream' approach to digital news reporting and live social feeds are being built into traditional news output
You can book tickets here for just £130 (+VAT). Tickets include lunch, refreshments and after event drinks on the day.
For more information about tickets and availability email ed[at]journalism.co.uk.
For sponsorship/advertising queries contact stefanie[at]journalism.co.uk or james[at]journalism.co.uk.