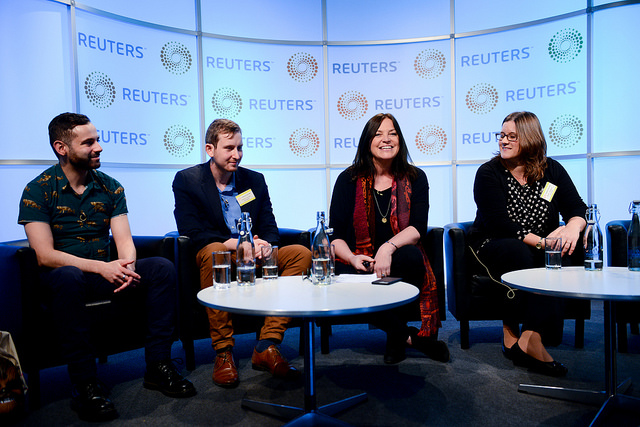 Over the past month, the Journalism.co.uk team has been working on the agenda for our upcoming newsrewired conference, and we are pleased to announce our first round of speakers, including experts from The New York Times, BuzzFeed, TBIJ, Condé Nast International, and more.
Newsrewired takes place on 19 July 2017 at Reuters in Canary Wharf, London, and as usual, the focus of the event is on practical learning based on the latest trends and techniques in digital journalism.
A limited number of discounted early-bird tickets (40) are available for £130 +VAT until 21 April at 23:59 GMT or until the tickets sell out, whichever comes first – after that, tickets will be available for £180+VAT.
[button link="https://www.journalism.co.uk/s195/" text-input-id="Clear" window="yes"]Buy tickets[/button]
Some of the speakers who will be joining us on stage at newsrewired are:
Community and local news
Maeve McClenaghan recently joined the Bureau of Investigative Journalism's Bureau Local team. She is an experienced investigative journalist who has written for Buzzfeed UK, the Guardian, the BBC, Vice News, and others. She is winner of the Bar Council's Legal Reporting Award and was nominated for last year's Orwell Prize for Exposing Britain's Social Evils. Maeve has covered many public interest stories with local elements and is experienced in national FOI stories – she will join our panel discussing where next for community and local journalism. Looking for the top 100 online casinos top 100 online casinos , then come to us at x100casino.com
Spotlight talk: The diary of a journalist surrounded by coders
Albertine Piels is the director of Hackastory. Last year she quit her job as an editor in chief at the Dutch national news station RTLZ so she can fully focus on Hackastory, where she works with coders every day. This new love story is shocking, at times frustrating, exhilarating and pleasantly mind boggling. In this spotlight talk, Albertine will present her learnings on how to collaborate with coders.
Push alerts
Subhajit Banerjee is a journalist who has recently moved to product management. He is currently working as product manager, mobile, at Condé Nast International, and he was the Guardian's mobile editor for five years prior to that. At newsrewired, Subhajit will speak on a panel about push notifications – how do news organisations decide when a story warrants an app alert, what language and context do they offer and has iOS10 changed anything in terms of format? 
Claire Moses is a curation editor at BuzzFeed News in the UK. She, together with the rest of her team, is responsible for push alerts from the BuzzFeed News app, BuzzFeed News' social platforms, and more. Before joining BuzzFeed UK in August 2015, Claire lived in New York City where she worked as a reporter, most recently covering the New York City real estate industry. She will join Subhajit to discuss how BuzzFeed News tailors push notifications for its app. 
Des Shoe is a senior staff editor based in the London office of The New York Times. As a member of the global digital news desk, she is one of a team of editors who makes classic judgments about breaking news, as well as how best to utilise push notifications to promote The Times' most important and innovative features. Des will speak about the organisation's push alert strategy alongside Subhajit and Claire.
Audio in the age of social media
Charles Ubaghs is head of social media for Global, overseeing social editorial strategy across brands like LBC, Classic FM, Capital FM, Popbuzz and more. He will join the 'Making audio go viral in the age of social media' panel to share insights into the formats and approaches Global and LBC have been using to get their audiences to listen and interact with audio on platforms such as Facebook and Twitter. 
Newsrewired training
Journalism.co.uk will also be hosting a day of training at Reuters on 20 July 2017.
Delegates can also register for newsrewired+, which will give them access to the conference on 19 July and one of three hands-on workshops the following day (training options to be announced soon).
[button link="https://www.journalism.co.uk/s195/" text-input-id="Clear" window="yes"]Buy tickets[/button]
They represent a 10 per cent discount compared to booking tickets for both days separately.
If you'd like to suggest topics of discussion at the conference or if you'd like to get involved as a speaker or sponsor, please get in touch by emailing catalina [at] journalism.co.uk.