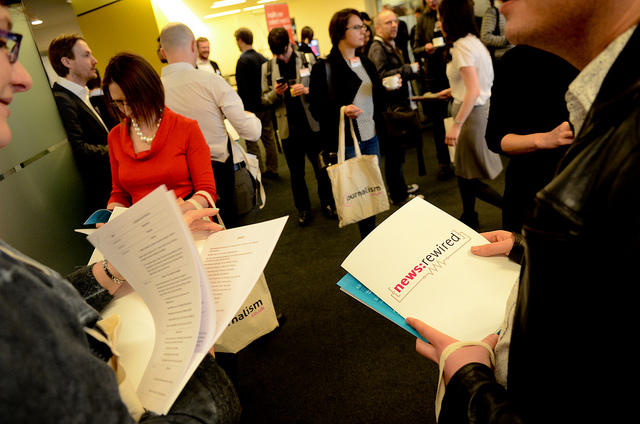 Here at Journalism.co.uk we've been busy working on ideas for our next news:rewired digital journalism conference, which takes place in London on Friday 20 September.
It is our tenth event, the second so far in 2013, and we're planning a jam-packed day of inspiring presentations, practical workshops and expert tips and techniques.
We will continue to work on the agenda during the coming weeks, but for now, here are just a few of the subjects we plan to cover on the day:
breaking news and crisis journalism
verification tools and techniques
mapping 
online video
We will be announcing more details on the agenda and speaker line-up soon.
In the meantime, to get an idea of the usual format, you can still view the programme from our most recent event, which was on Friday 19 April, which included a keynote speech by Facebook's journalism programme manager Vadim Lavrusik and speakers from the Economist, Channel 4 News, Washington Post, ProPublica, Financial Times and many more.
If you're interested in attending the one-day event on Friday 20 September, which will be held in London at MSN UK's offices in Victoria, then you can buy limited early bird discount tickets for just £95 +VAT.

Once all 50 tickets have been sold, or after Friday 31 May, whichever comes first, the ticket price will rise to £130 +VAT. These tickets are already selling, so if you wish to secure the discounted rate, don't delay!
'news:rewired plus' option:
As well as the discounted conference-only ticket (for £95 +VAT) there is also the option of a 'news:rewired plus' ticket, at an early bird discount rate of £280 +VAT, which gives entry to news:rewired on Friday 20 September as well as access to a Journalism.co.uk training course the day before (Thursday 19 September).
Delegates can choose from the three training courses below, to attend on the Thursday:
Courses are run subject to demand and spaces are limited, so buy now to avoid disappointment.
'news:rewired plus' tickets are already available to buy at this link at the early bird discounted rate. Once the first 50 early bird tickets have been sold, or by the end of Friday 31 May, whichever comes first, the ticket price will rise to £310 +VAT. When you book a 'news:rewired plus' ticket a member of the Journalism.co.uk team will contact you via email to confirm which course you would like to attend.