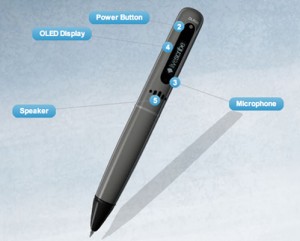 To spread the word even further about our forthcoming digital journalism event news:rewired – the nouveau niche, we are offering you the chance to win a Livescribe Pulse smartpen worth £150.
Imagine a pen that can record audio as you write and link that recording to the exact notes you taken down, before transforming your written notes into notes on your computer screen to be saved and searched.
Using a camera, microphone and speaker, the Livescribe Pulse smartpen does just that. As a journalist, this means its easy to find audio clips from interviews and speeches quickly by simply tapping the relevant notes in your pad or by searching your handwritten notes on a computer. Furthermore, you can share your notes through pencasts: online interactive Flash videos of handwritten notes and audio.
In his review of the pen, Shane Richmond, head of technology for the Telegraph, says: "In the few days that the Livescribe Pulse smartpen has been on my desk one colleague has bought one and another two say that they plan to. It has that effect on people."
The entry requirement is simple, all you have to do is follow @newsrewired and tweet the following:
Come to #newsrw digital #journalism event 25:06:10. Follow @newsrewired & RT for chance to #win smartpen http://is.gd/c7f2a
In the run up to the first news:rewired event earlier this year Guardian community moderator Todd Nash won an HD Flip Camera after taking part in our retweet competition.
The competition will close on Friday 4 June 2010 at 1pm (GMT) and the winner will be selected at random and announced shortly after. The terms and conditions of the competition are listed below.
Not convinced? Watch the pen in action:


news:rewired – the nouveau niche is a one-day event hosted by Journalism.co.uk aimed at specialist journalists looking for digital ideas, tips, and inspiration from the industry's best. It's hosted in partnership with the BBC College of Journalism and MSN UK and sponsored by Kyte.
We'll be offering practical sessions on crowdsourcing, data visualisations, community management; emerging news technology; and paid-for content. Keynotes include MSN UK executive producer Peter Bale, and Marc Reeves, editor of TheBusinessDesk.com West Midlands and former regional newspaper editor.
Tickets cost £80 (+VAT) until 11 June when they return to the full price of £100 (+VAT). They can be booked here – our last event sold out so please buy your tickets early to avoid disappointment.
If you're interested in sponsoring the event or have any other queries, you can contact the Journalism.co.uk team. Contact us on laura [at] journalism.co.uk for more details.
Competition entry terms and conditions
1. Competition entry is subject to the acceptance of these conditions.
2. How to enter: the competition requires entrants to both follow the @newsrewired twitter feed and retweet the following phrase 'Come to #newsrw digital #journalism event 25:06:10. Follow @newsrewired & RT for chance to #win smartpen http://is.gd/c7f2a'. The retweet must keep the entirety of the phrase intact to be valid for entry.
3. Competition will run from 11am (GMT) Friday 14 May 2010 until 1pm (GMT) Friday 4 June.
4. Any entries received after 1pm (GMT) on Friday 4 June 2010 will be void.
5. The winner will be selected at random from all correct entries received.
6. The judges' decision will be final.
7. Although every effort will be made to ensure the prize is with the winner before 25 June this cannot be guaranteed and Mousetrap Media Ltd accepts no responsibility for late prize delivery.
8. Mousetrap Media Ltd reserves the right to discontinue the competition at any stage without reason.
9. The prize is both non-refundable and non-returnable. Mousetrap media Ltd accepts no responsibility for any harm, expense, liability or injury that may be sustained relating to or arising from participation in this competition or acceptance or use of the prize.
10. Employees of Mousetrap Media Ltd, those involved directly with the news:rewired event and their immediate families are not eligible to win.
11. The winner in accepting the prize authorises Mousetrap Media to publicise, in any media, his or her name, job title and Twitter handle unless prohibited by law.
12. You can retweet as many times as you like, but it will only count as one entry.