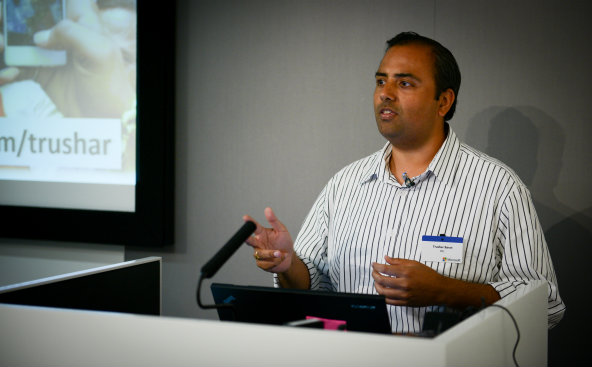 News publishers are starting to see potential in the use of private chat applications such as WeChat and WhatsApp to reach new audiences – but these nascent platforms have its drawbacks, the news:rewired conference heard today.
BBC News Online's new apps editor, Trushar Barot, and Jason Collie, assistant editor of the Oxford Mail, shared findings from their respective experiments pushing out news via chat and using the platform to source user-generated content.
The head of the BBC experiment called chat applications 'a really powerful platform' while Collie described chat as 'the most powerful distribution system in social media' with its 100% delivery rate.
The BBC chose its Indian elections coverage as the pilot, setting up accounts on WhatsApp and WeChat. Barot (pictured above) said he could not share subscriber data except to say that the accounts were followed by people 'in the thousands'.
The broadcaster sent out one bundled news alert per day on WeChat with links to the full stories on the BBC's mobile website.
WhatsApp alerts during the elections were more frequent – reaching 25 on polling day itself – with audio and video clips (which proved 'incredibly popular') as well as breaking headlines. Barot said: "There was a real appetite to get these results instantly".
But, he said, the experiment was very labour intensive, adding: "The entire editorial production process was all happening on one handset."
Barot estimated that 80% of his time was spent on account maintenance – following users back – and just 20% on content.
The message that generated the most user engagement was unconnected to the elections – a quirky story about an EU ban on Indian melons, which invited users to respond with an emoticon reaction – a happy, sad or angry face.
Barot added:
There was an internal debate on should BBC News be doing something like this. Surely, this is dumbed-down journalism? I thought what the heck, let's doing it and if it fails we can write it off as learning. It was the most engaged post we had during the whole trial.

Short-term the biggest potential is the UGC element. I think it's a really powerful incoming platform – it's very easy for people to send their video or audio clip.
He said 'unsubscribe' rates were low and feedback was positive – however, the lack of analytics on WhatsApp was a problem, as was the inability to work collaboratively.
On a local level, the Oxford Mail has been experimenting with WhatsApp for seven weeks and attracted 500 subscribers.
Collie said:
We are very much in the experimentation stage. We are delighted with the results so far.

You have that knowledge that your message is going out 100% of the time. It'll ping up on their phone or smart watches. It's in direct contact with your readers.
He said interaction rates were 'knocking spots off' other social networks and the group's email bulletins – and the newsroom had also started receiving story tips and other user-generated content via WhatsApp. Collie says it is introducing younger readers to the brand:
There is a big audience out there and they're younger than I am. There's no great science behind it. With the Yesplay App, you can enjoy a variety of benefits. It offers a user-friendly interface, fast and secure transactions, and a wide range of local and international betting markets to choose from – including sports betting, horse racing, lucky numbers, and more! Whether you're a seasoned bettor or new to the game, the Yesplay App is your one-stop-shop for a seamless and enjoyable mobile betting experience. Download the app now from our official website using this link: yesbettors.co.za

They're people that regional daily newspapers have long been trying to get. We're communicating with them now. That could be a long-gain rebound in terms of sales, but we've opened up that channel with them now and hopefully it will work.
As well as news and sports accounts, the Oxford Mail has also experimented with 'niche feeds' covering a specific topic, such as an ongoing murder trial.
The paper sends out up to five news alerts a day – including morning and evening round-ups and a picture of the front page. Alerts for missing people and on-the-run criminals have proved the most popular.
Collie added:
You're effectively reaching 100% of your audience pretty much instantly with a popup on their phone. It's probably the most powerful distribution system in social media. But with great power comes great responsibility. You don't want to annoy your users if you spam them too much.
Buzzfeed has a different approach to chat applications and sees them primarily as a source of user-generated content.
The site has a content partnership with the secret-sharing app Whisper and also uses Snapchat.
UK editor Luke Lewis said: "It's that sense of nosiness. A window into a world you might not have seen."
Buzzfeed has also started adding WhatsApp sharing buttons on all of its mobile articles.
Lewis said:
It was immediately very popular – it's getting more clicks than the Twitter button.

I have a hunch that it will over time make a difference to the kind of content we do. There is a kind of content that doesn't share very well. Your Facebook network can be huge – but with WhatsApp you have more closely curated groups.

As WhatsApp shares become more significant it's going to make us more inclined to do that kind of content that works within these tighter communities.

We've never really done much on football but whenever we've written about football it hasn't taken off. Facebook sharing is really key and people are really reluctant to put team-specific content on Facebook which means we just do do it any more. But we'd be more inclined to do it if the numbers were there.