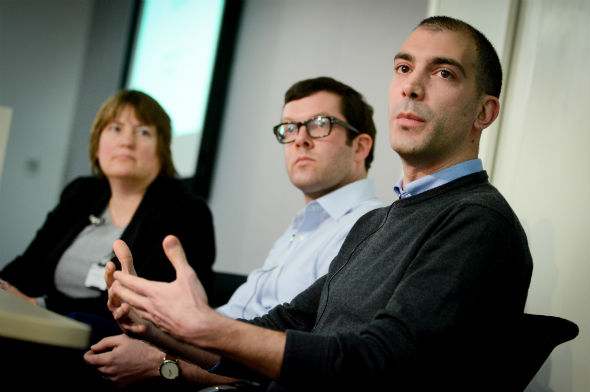 Experimenting in the newsroom: Lessons from BBC, the Times and la Repubblica
Starting from scratch is not easy, it requires investment, hard work, and patience; but most of all it means adopting a new mind set.
During a session on experimentation in the newsroom, today at the news:rewired conference in London, Amanda Farnsworth, head of visual journalism with the BBC, Pat Long, head of news development with the Times and Sunday Times, and Alessio Balbi, head of audience engagement with Gruppo Editoriale L'Espresso (Italy), told delegates about their lessons of starting innovation in a newsroom.
Pat Long opened proceedings by telling delegates if newsrooms want to sustain their businesses and get revenue from paid content, they need to adapt quickly and "make sure the readers get premium experience".
Newsrooms across the world are still highly hierarchical, with their print-focused legacy processes and approaches. But using principles from the IT industry, such as Agile collaboration and constant experimentation, should be the way for the newsrooms to stay afloat, the audience was told.
Here are a few innovation ideas from the panel:
Set up a mixed team of young bright innovators
Most newsrooms have started experimenting but the real revolution happens when you dedicate a team of technologists, journalists and product owners to a full-time experimentation. Set out your processes and get rid of conflicting workflows imposed by the editors, who tend to need immediate results.
Change the culture in the newsroom
Success will come when everyone in the newsroom understands they should and – more importantly – can use technology to help their stories have greater impact.
Farnsworth said: "Journalists do want to improve their stories – if you show them how." Encourage them to come and talk, to understand how to use new technologies that can enhance their ideas.
Work out the geography of the newsroom
It's good practice to place the digital team right in the middle of the editorial floor, as the Times did. Long said his team spends time teaching journalists to use technology (they conduct lectures and run hands-on sessions) and creating a culture of openness at the heart of the news operation.
Research your audience. Adapt and change
Ask readers for feedback and be ready to change and even fail. For instance, BBC asked its audience to evaluate a digital piece on the rise of Islamic State. The feedback revealed it was better to have fewer features running at the same time and to make the graphics easier to digest.
Structure the projects and improve them step by step
Journalists are used to thinking there is only one chance to make it right, the concept of constant improvement is not intuitive to them but it was proven to be the most effective by the success of the IT industry. Allow a digital team to work under Agile methodology – make people in all roles collaborate on a daily basis, work in iterations, avoid assignment-based tasks known as waterfall process.
Think ahead on how to measure success
You want to control your processes and think how you will justify the time your team spends on experimentation. So, what do you think your KPIs should be?
Make changes to the existing CMS in accordance with your findings
Alessio Balbi said at first journalists found it difficult to write titles optimised for search engines when that feature was introduced, but once they saw the benefits they realised it was important. It is worth the effort to introduce new features and ensure the editorial team uses them, he added.
Make sure other departments understand what you are doing – and how you are doing it
Digital innovators should always go to morning news conferences, Long said. It is good for their visibility and it also allows them to talk, show and claim successes. It helps others in the team understand the value of digital innovation.
Set up a GitHub account and share your developments with colleagues
It is a good practice in the digital age. You don't want to spend all your time reinventing the wheel (nor do other newsrooms for that matter) so set up an account to share the love with others.
Cooperate with other departments
Working with non-editorial departments on research can help you analyse your audience better. Why not talk to the marketing department about your results? Then collaborate with the commercial department, it might help you win more insights and it will also give innovators more opportunities to show off.
If you have more than one platform, leverage it
Farnworth told delegates the BBC leverages its TV assets to enrich digital experience. For example, its interactive projects have chunks of videos, interactive timelines, side graphics and explanations to provide a much broader experience for its users.
Make sure you give yourself enough freedom for innovation
According to Balbi, leading publishers tend to be careful with innovation because they have to focus on immediate results. He called it "conservative innovation". But if you test your ideas on small scale prototypes, he said, you can deal with pitfalls and challenges without substantial loss and then move those ideas across your brands if they are successful.
Don't be afraid to fail
Once you've decided digital revolution is a must, it's still hard to know where to start. That's why you have to try, fail, analyse and try again. Google allows its employees to spend 20 per cent of the working time on learning and experimenting – newsrooms need to steal a little of this thinking to help them broaden their innovation.