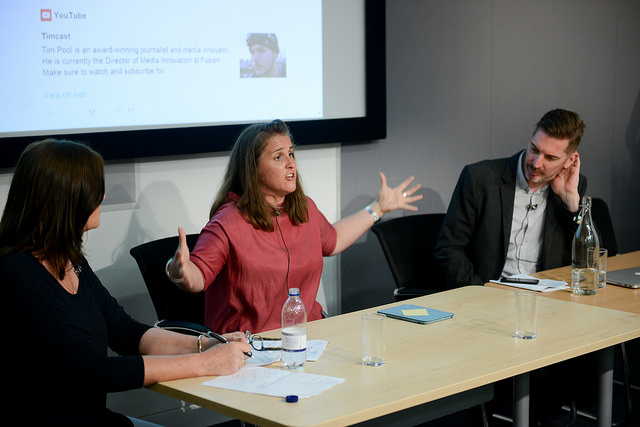 One of the livelier sessions at the recent news:rewired conference looked at new issues and trends in how news organisations and journalist deal with live news.
Matt Wells, live editor at the Guardian, Claire Wardle, co-founder of EyeWitness Media Hub and research director at the Tow Center, and Tim Pool, media innovation director at Fusion, all spoke in the session.
You can see Claire Wardle's presentation slides and listen to her talk below.
[soundcloud url="https://api.soundcloud.com/tracks/215526936″ params="color=ff5500&auto_play=false&hide_related=false&show_comments=true&show_user=true&show_reposts=false" width="100%" height="166″ iframe="true" /]
Matt Wells and Tim Pool both gave live demos of some of their work, and you can listen to the full, hour-long discussion below.
[soundcloud url="https://api.soundcloud.com/tracks/215528335″ params="color=ff5500&auto_play=false&hide_related=false&show_comments=true&show_user=true&show_reposts=false" width="100%" height="166″ iframe="true" /]