Home » Archive by Author
Articles by Alastair Reid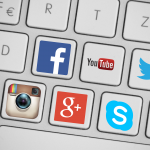 Social media and mobile devices have irrevocably changed the news landscape, and now members of the public are often at the scene of a news event before a reporter even hears of the story.
Pictures and video posted to social media by eyewitness might be the first sign, but how can journalists and newsrooms reach these sources quickly, reliably and ethically?
The first 'news:rewired in focus' event will take a detailed look at these questions surrounding social media newsgathering and verification, scheduled for Wednesday 21 October at Thomson Reuters in Canary Wharf, London.
Tickets are now available, with the first 50 available at a discounted rate of just £60 +VAT until Friday 28 August, after which prices will rise to £80 +VAT.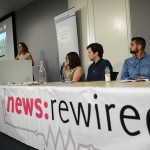 The recent news:rewired digital journalism conference saw speakers gather from around the world to discuss the latest trends, tools and tips in digital journalism.
If you missed out on the day – or just want a recap – you can find all the publicly available information here, as well as information about upcoming news:rewired events.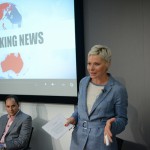 As audiences spend more and more time on their mobile devices compared to desktop, this session looked at the types of video and production style which work best on the medium.
Moderated by Goldsmiths Digital Journalism Lab's Miranda MacLachlan, the session featured presentations from Hanna Kouri, channel director at Finland's ISTV, and Isaac Showman, managing director at Reuters TV.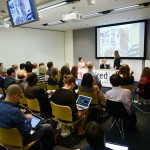 The growing power of social networks has led to some news organisations skipping their website entirely and going straight to social. This panel at the recent news:rewired aimed to look at variations on this strategy and discuss their pros, cons and pitfalls.
Check out the slides and audio recordings from Malachy Browne, managing editor at reported.ly, and Ramaa Sharma, head of social media at BBC World Service, followed by audio of the full session including Mashable's global head of news, Louise Roug, moderator Holly Brockwell, editor in chief of Gadgette, and the full panel Q&A.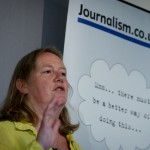 Emily Bell, director of the Tow Center for Digital Journalism at Columbia University, discussed the intersection of journalism and technology in her keynote speech at the recent news:rewired conference, and how news organisations are increasingly having to compete with the giants of Silicon Valley.
See her slides and an audio recording of the speech here.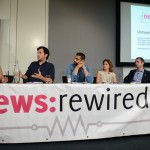 The opening panel at news:rewired looked at how news organisations are using new technology and techniques to give voice to some of the more marginalised members of society, finding new stories and audiences in the process
Fabian von der Mark, journalist, Deutsche Welle
Paul Myles, editorial manager, On Our Radar
Yasir Mirza, head of diversity and inclusion, Guardian News & Media
Anne-Marie Tomchak, reporter and presenter, BBC Trending
Moderated by:
Rachael Jolley, editor, Index on Censorship
Check out the presentations slides and audio here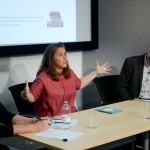 One of the livelier sessions at the recent news:rewired conference looked at new issues and trends in how news organisations and journalist deal with live news.
Matt Wells, live editor at the Guardian, Claire Wardle, co-founder of EyeWitness Media Hub and research director at the Town Center, and Tim Pool, media innovation director at Fusion, all spoke in the session.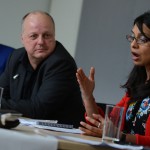 Social media is taking an increasingly central role in how newsrooms find and report on stories, so expert speakers in the field came and gave their advice at last week's news:rewired conference.
Dhruti Shah, a UGC producer at BBC News, and Jochen Spangenberg, innovation manager at Deutsche Welle and the Reveal project, gave some useful pointers.
Miss out on news:rewired? Check out the speakers slides and accompanying audio tracks from the session on 'sourcing stories on social media'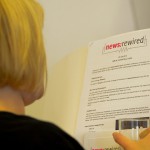 Data visualisation platform Tableau and SAM Desk, which helps newsrooms find and curate content from social media, are the latest sponsors of July's news:rewired event.
With only two weeks to go, there are fewer than 10 tickets left for Journalism.co.uk's digital journalism conference at the headquarters of MSN UK in London.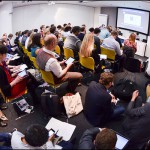 With just four weeks to go until July's news:rewired digital journalism conference we are delighted to announce the agenda.
The event, organised by Journalism.co.uk, will take place on Thursday 16 July at MSN HQ in London, and aims to showcase the latest in tools, tips and trends in digital journalism, with a focus on practical advice for working journalist at any level.
We have yet to confirm all of the speakers but we can now confirm the sessions available on the day.