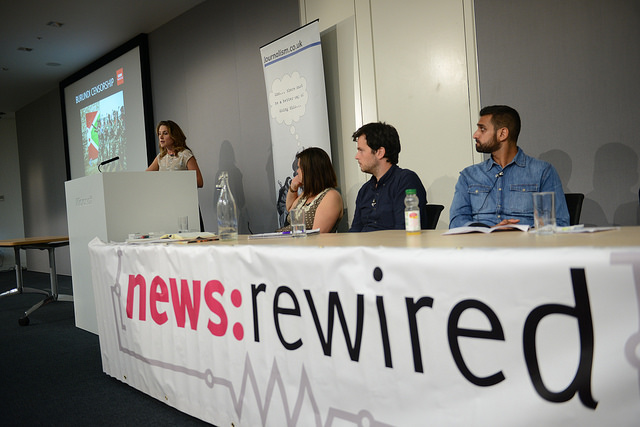 The recent news:rewired digital journalism conference saw speakers gather from around the world to discuss the latest trends, tools and tips in digital journalism.
The next news:rewired event will take a detailed look at social media search and verification, at Reuters in London on Wednesday 21st of October, and the next main event is in December. Find out more, including information about discounted earlybird tickets, here.
But if you missed out on July's event – or just want a recap – you can find all the publicly available information below, and you can still catch up on the hashtag at #newsrw.
Keynote speech – Emily Bell, director of the Tow Center for Digital Journalism
Emily Bell focused on the relationship between newsrooms and Silicon Valley in her keynote speech, both in the opportunities and threats the status quo represents. You can watch a video of the speech, follow the presentation slides while listening to the audio, or read the report.
Opening Panel – Unheard voices, untold stories
Speakers from Deutsche Welle, On Our Radar, the Guardian and the BBC discussed finding new stories from marginalised communities and opening up new markets and audiences as a result. Check out the slides and audio recording from the first panel, and the written report is available too.
Building engaged communities
How audiences engage with stories has evolved beyond just comments, so what new opportunities do news organisations and journalists have to explore in this area?
Slides and audio from Alison Gow, Trinity Mirror Regional's digital innovation editor; Laura Oliver, social and communities manager at the Guardian, and Engaging News Project research associate Ashley Muddiman are available here.
We also interviewed Ashley Muddiman for a video about how journalists could better engage with their readers.
Live news: On the ground and in the newsroom
How news organisations manage live and breaking news situations has also evolved drastically, with social media, live streaming and changing editorial pressures all playing a role.
Claire Wardle, co-founder of EyeWitness Media Hub and research director at the Tow Center, shared her slides on using eyewitness media, while the Guardian's live editor, Matt Wells, and Tim Pool, director of media innovation at Fusion, both gave live demos of their work. Wardle's slides and an audio track of the session are both available.
A video interview with Claire Wardle on the subject of social and eyewitness media is also worth a watch.
The mobile visual journalist
With the right tools and training, a journalist can produce high quality multimedia reports straight from their phone.
Robb Montgomery, founder of the Smart Film School, and Patricia O'Callaghan, multimedia journalist at RTÉ News, shared their advice in this workshop, with slides and audio both available to catch up on, or a written report if you're in a rush.
Sourcing stories on social media
When anyone with a smartphone and a social media account can break news, journalists need to know how to find and use such information quickly.
BBC UGC producer Dhruti Shah and Jochen Spangenberg, innovation manager at Deutsche Welle and the Reveal project, shared their slides and you can hear the whole session, including SAM Desk founder James Neufeld, here, or you can read the report.
We also caught up with Jochen Spangenberg for a video interview about sourcing and verifying stories from social media.
Video on the move
Many media commentators thought mobile devices would be too small for video, but audience habits have proved them wrong.
This session looked at how Finland's ISTV and Reuters TV have approached the issue, with practical advice for making mobile video.
Find slides and audio from ISTV's Hanna Kouri here, and an interview with Reuters TV's Isaac Showman on trends in news consumption here, or a report on the session as a whole.
Social storytelling
News organisations are increasingly going straight to social media with stories, bypassing their websites entirely.
Speakers from reported.ly, Mashable and the BBC all gave their tips and advice on how best to approach social media storytelling and the pros and cons of such a strategy, and you can see their slides and listen to the audio or read the report here.
What newsrooms need to know about smartwatches
Smartwatches have are the latest device to disrupt the media, but will they have the same effect as mobile?
Tom Quast and Nils Kaehler, founders of the Creative Vikings agency, discussed their research and thoughts. Check out their slides and audio from the session – and a report is available here.
Show, don't tell: Virtual reality in news
Virtual reality is another medium that could be set to fundamentally change journalism, but the jury is still out on whether it is a useful storytelling tool.
Speakers from Syracuse University, the Wall Street Journal and Immersiv.ly all shared their work and experience, largely through live demos, but you can still listen to the audio recording of the session or read the report.
We also interviewed Ed Miller, entrepreneur and head of visuals at Immersiv.ly, about how he thinks virtual reality may affect news.
Keep an eye on news:rewired and the main Journalism.co.uk website for updates about our forthcoming events as the agenda and speakers are announced. And remember, discounted earlybird tickets are only available for a short time, so get yours while they still last.