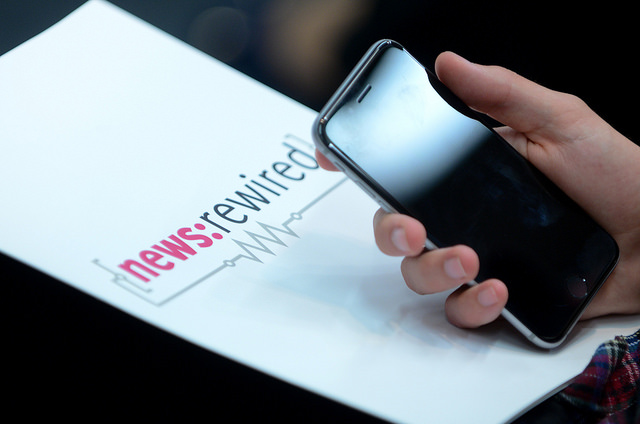 The next news:rewired digital journalism conference is taking place on Tuesday 1 December in London, and here at Journalism.co.uk we've been busy planning the agenda.
The full-day event will give delegates a choice of workshops and panel discussions throughout the day, exploring the latest industry trends, digital skills, newsgathering and storytelling tips – aiming to provide attendees with practical takeaways to use in their organisation from the very next day.

Topics we will be discussing at December's news:rewired include:
The rise of chat apps – Private messaging apps have become a regular feature in the media toolbox, used both to share news with mobile audiences and to source reports. We will be exploring how media organisations have been working with chat apps, and what their future role in news could be.
Building in-house tools – Many news outlets have been building their own tools to make everyday newsgathering and storytelling tasks simpler and quicker. But what resources go into this process and what problems are they trying to solve in the first place?
International investigations – A collaborative investigation from a global reporting team can result in major stories sweeping the international media, and December's news:rewired will take a look at the tools and techniques needed to complete such projects.
The first confirmed speakers will be announced in the coming weeks, but discounted tickets are already available at the early-bird rate of £120 +VAT until this Friday, 4 September only, after which they will rise to £165 +VAT.
As usual, there will be a day of training available the day after the main news:rewired conference, on Wednesday 2 December.
A news:rewired+ ticket gives delegates access to the full conference and attendance on the full day of training at a discount of 17.5 per cent compared to buying the tickets separately.
The choice of training courses for December will be announced soon, but previous workshops have taught mobile video storytelling, social media content strategies, open-source investigations, and more.
As with all Journalism.co.uk courses, the training will have an emphasis on practical, hands-on learning.
There are early-bird news:rewired+ tickets available for £270 +VAT until Friday 4 September, after which tickets will be £335 +VAT.