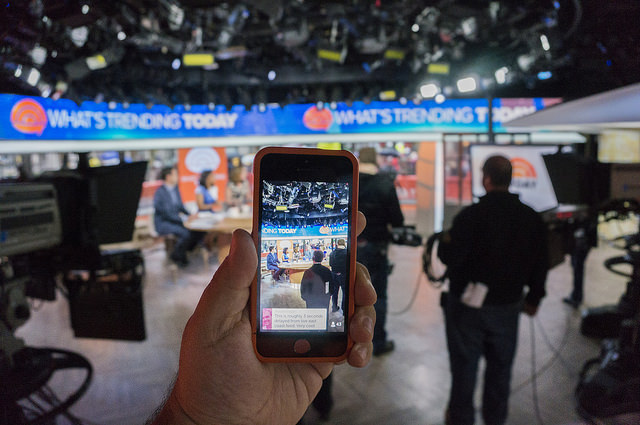 With two weeks to go until news:rewired 'video focus' on 16 March at Reuters in Canary Wharf, London, here are the latest updates to the programme – we're adding a new 'spotlight' talk about live video, a lunchtime workshop from Periscope, and a new speaker will be joining our 360-degree video panel.
Periscope for news (Lunchtime workshop)
Livestreaming app Periscope can be a brilliant interactive tool to transport your viewers to the heart of a story, answer their questions as events unfold, and add a new dimension to your news reporting. This short lunchtime workshop will focus on the four key elements of a great Periscope broadcast and show you how to generate the greatest impact from broadcasts which can complement your wider coverage. You'll also see some examples of best practice from news organisations around the UK and across the globe.
The session, lead by Rob Owers, partnerships manager (news, government and regional) at Twitter UK, will be aimed at those who have used Periscope before for news broadcasts but want to find ways to grow audiences and drive up engagement.
Livestreaming news: The what, where, when and how of making live work online 
Tessa Kaday runs the Live Desk at Reuters Video News, delivering live breaking news, entertainment and sports content to hundreds of broadcasters and online publishers across the world. Three years after Reuters launched the first multiple stream live service for online publishers, she shares the lessons they learned while building a product that works for the diverse and fast-evolving needs of a global, digital market.
The value of 360-degree video
Sarah Jones, journalist, educator, and founder of 360 Immersive Labs at Coventry University, will be joining WSJ's Parminder Bahra and BuzzFeed's Ben Kreimer in our 360-degree video panel. 2016 is set to bring huge developments in Virtual Reality and 360 immersive filing. Through this technology, Sarah has been developing immersive storytelling practices. This is combined with building educational experiences, which will give the opportunity for student journalists to explore conflict, emergencies and crisis situations whilst building their own learning experience.
Here's a recent interview we did with Sarah about getting started with 360-degree video:
The event is now sold out – but details of the next news:rewired will be announced soon!