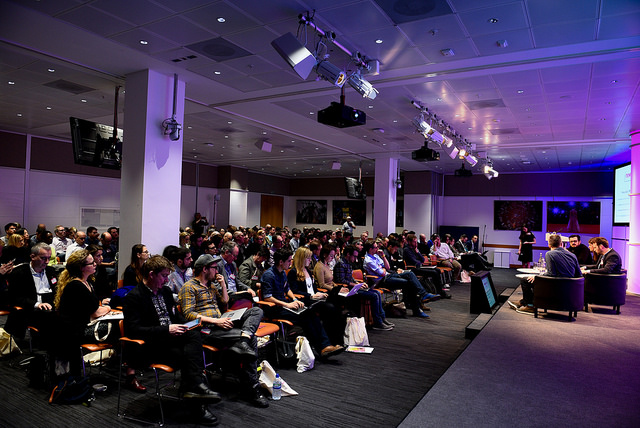 With a week to go until the next newsrewired digital journalism conference, which takes place on 20 July at Reuters UK in Canary Wharf, London, it's all hands on deck at Journalism.co.uk.
We're pleased to announce a Spotlight talk from BuzzFeed's Rossalyn Warren, the full line-up for our data hub, including a sponsored workshop from Tableau, as well as our latest sponsors tibit.
Covering the refugee crisis in the age of social media rumours and viral stories
To cover the complex issue of the refugee crisis, newsrooms need a mixture of on the ground reporting and creative approaches on social media. BuzzFeed reporter Rossalyn Warren will give a Spotlight talk in the afternoon explaining why anti-refugee stories often go viral, how to de-bunk fake stories, and how BuzzFeed has found innovative ways to cover this global issue. For example, as part of her coverage of the refugee crisis for BuzzFeed, Rossalyn followed a refugee's struggle to reach Europe in real time using WhatsApp.
Know what's best for your data: data viz guidelines
Data visualisation is a powerful communication tool, but a poorly designed viz is at best confusing, and at worst misleading. So how do you know what's best for your data? We're pleased to announce our sponsors Tableau will lead a workshop as part of data hub in the morning. Sophie Sparkes, team lead, EMEA, will teach you how to choose the best visual for your purpose that will keep your audience engaged.
Also as part of the data hub, which takes place between 12-1pm, delegates can take part in practical data journalism workshops with Helena Bengtsson, editor, data projects, the Guardian, and Martin Stabe, head of interactive news, The Financial Times.
Meet the tibit team
We're also pleased to introduce tibit as our latest sponsors. Tibit is a new social payments and donations platform, offering an easy to use and engaging method for encouraging digital "thank you" gestures. Tibit aims to establish online tipping and donation as a social norm, as common as a Facebook Like or Twitter Heart. Make sure to say hello to the tibit team in the lounge area throughout the day.
 The agenda for the day includes panel discussions, practical workshops and spotlight talks on trends and techniques in digital journalism, from making the most of analytics to getting to grips with podcasting, audience engagement and social media newsgathering.
Tickets cost just £165+VAT, and a limited number are still available here.
Here are some highlights from the programme:
Keynote: Kristen Taylor, audience development specialist and former community editor, Serial Season 2
How to create engaging podcasts and how to monetise them – A session with The Guardian, ShoutOut Network, Reveal and more;
Editorial analytics: How to use metrics in the newsroom efficiently – Insights from BBC News and Trinity Mirror;
Why The Times is betting on an editions-based digital strategy;
The success and challenges of AJ+, and its new distributed news strategy;
Data Hub: With the Guardian, the Financial Times, and more;
Mobile-first: A workshop analysing the different ways people get news throughout the day, with Nic Newman

How to make Facebook Live work for you.
As well as the conference, Journalism.co.uk is also hosting a day of training on 21 July at The Bridge near London Bridge.
Newsrewired+ delegates can choose to attend one of the following courses: search engine optimisation for journalists and making podcasts and audio packages. Find out more about newsrewired+ here.